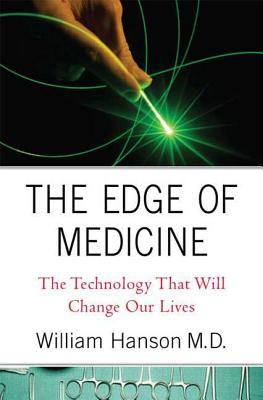 The Edge of Medicine: The Technology That Will Change Our Lives (Hardcover)
The Technology That Will Change Our Lives
Palgrave MacMillan, 9780230605756, 248pp.
Publication Date: October 14, 2008
* Individual store prices may vary.
or
Not Currently Available for Direct Purchase
Description
Experts agree that we are entering the Golden Age of Medicine, when our everyday experience of being ill and getting better will be more like science fiction than today's routine trip to the doctor.
Bill Hanson, director of the surgical intensive care unit at the University of Pennsylvania Medical Center and an inventor of medical technology, offers true-life and intensely intimate stories about the way biotechnology is changing people's lives.
An electronic nose that detects infection, such as pneumonia, based on a person's breath
Robots with appendages that can feel their way around tissue, which will augment the hands of surgeons in the operating room
Computer health wizards that will advise and prescribe through your home computer
Computerized psychotherapists dispensing advice about emotional problems
Telehealth software that serves as a monitoring nurse for difficult to manage chronic illnesses such as diabetes.
Wheelchairs operated by reading electrical brainwaves for patients with severe neurological deterioration.
Bill Hanson describes the human genius that arrived at these amazing discoveries, and how innovators are working to take these feats to an even more technologically advanced level. And more importantly, he discusses what the human experience will be and how we can prepare ourselves for the moral and ethical challenges that these awesome changes will bring. This riveting and startling account will make us revise our expectations of our own mortality.
About the Author
William Hanson M.D. is an anesthesiologist and chief of intensive care at the University of Pennsylvania Medical School as well as an Associated Faculty member of the Computer Science Department at Princeton University, where he has taught a course on computers in medicine. He is often quoted in USA Today and US News & World Report, and has been profiled in Popular Science and New Scientist. He lives in Philadelphia, PA.
Praise For The Edge of Medicine: The Technology That Will Change Our Lives…
"The work is informative, coherent, extremely well written, and easy to read; it will make readers acutely aware of the vast number of high-tech advances with potential to have a profound, positive impact on medical diagnoses, treatments, and outcomes. Summing Up: Highly recommended. Lower-level undergraduates through  professionals/ practitioners; general readers." -CHOICE "(A) spirited, feel-good look at an area of medicine that's making progress."--Kirkus
"The Edge of Medicine is a revelatory look at the amazing technology that will drive our medical future, from proton beams to mind-reading brain chips. Dr. Hanson is the ideal guide: knowledgeable, thoughtful, and fun."--Jack El-Hai, author or The Lobotomist: A Maverick Medical Genius and His Tragic Quest to Rid the World of Mental Illness
"A rare glimpse into the future of medicine, through the eyes of a Renaissance thinker with a remarkable grasp of history and modern science, combined with deep compassion for patients.  He sees linkages among vastly different sciences, such as physics, nanotechnology and computer sciences, that others often miss.  He envisions a melding of scientific advances in physics and chemistry with those in communications technology, leading to an exciting era of personalized healthcare that seemed impossible only a few years ago.  Throughout, he never fails to focus on the human side of healthcare; few could lead us there so elegantly. "-- David E. Longnecker, MD, Director at the Association of American Medical Colleges
"A riveting and readable account of the future of technology in health care. Dr. William Hanson makes a convincing case that the ultimate goal of tiny nanomachines and gargantuan proton beam facilities is a medicine that is preventative, efficient, and personalized."--Arthur L. Caplan, Ph.D., Chair of the Department of Medical Ethics at the University of Pennsylvania School of Medicine 
Advertisement