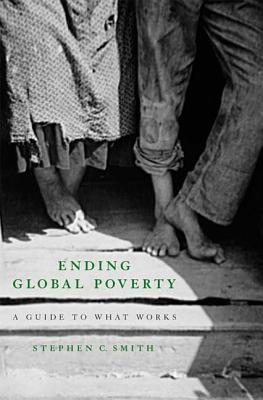 Ending Global Poverty
A Guide to What Works
Paperback

* Individual store prices may vary.
Other Editions of This Title:
Hardcover (4/28/2005)
Description
Over 800 million people suffer from chronic hunger, and over ten million children die each year from preventable causes. These may seem like overwhelming statistics, but as Stephen Smith shows in this call to arms, global poverty is something that we can and should solve within our lifetimes. Ending Global Poverty explores the various traps that keep people mired in poverty, traps like poor nutrition, illiteracy, lack of access to health care, and others and presents eight keys to escaping these traps. Smith gives readers the tools they need to help people overcome poverty and to determine what approaches are most effective in fighting it. For example, celebrities in commercials who encourage viewers to "adopt" a poor child really seem to care, but will sending money to these organizations do the most good? Smith explains how to make an informed decision. Grass-roots programs and organizations are helping people gain the capabilities they need to escape from poverty and this book highlights many of the most promising of these strategies in some of the poorest countries in the world, explaining what they do and what makes them effective.
Praise For Ending Global Poverty: A Guide to What Works…
"We have an opportunity, in this generation, to reduce global poverty, both through acts of charity and by working as citizens to influence public policy. Stephen Smith offers reliable information, stories of success, and good advice on how to get personally involved in this important fight. Read it, and then take action. " —David Beckmann, President, Bread for the World

"This practical and remarkably hopeful guide to ending world poverty delivers what it promises, clear-headed remedies for heart-breaking conditions. Stephen Smith finds solutions where others see only problems. All who truly place moral values at the top of their agendas will want to read this book. " —Forrest Church, author of The American Creed and Freedom from Fear

"A most comprehensive strategy for fighting poverty-of great interest to activists, scholars, and all who care about those most in need. Clearly written and with much conviction." —Amitai Etzioni, author of From Empire to Community

"Smith's book is a terrific contribution to our understanding of how to improve the well-being of impoverished people. [His] discussion of the keys to poverty traps dispels many popular misconceptions, and helps the reader understand the real issues. This book should help raise the effectiveness of donors, organizations, and governments in their efforts to help those in need." —Judith M. Dean, International Economist, Washington, DC

"Anyone who seeks a better understanding of human poverty should read this book. The author's optimism is a welcome antidote against the skepticism, pessimism and cynicism that often characterizes the debate on global poverty. He also offers a guide for those in rich countries who want to make a difference by supporting aid and relief organizations." —Jan Vandemoortele, Leader, Poverty Group, United Nations Development Program

"The world's leaders have repeatedly promised to tackle poverty on a massive scale, but they always seem to find excuses for failing to mobilize the necessary resources. Stephen Smith shows convincingly that even the poorest of the poor can help themselves - with a little help from the rest of us. Anyone who wants to understand why so many remain trapped in poverty, and what they and we can do about it, should read this inspiring book." —Ann Florini, Senior Fellow at the Brookings Institution and Director of the World Economic Forum's Global Governance Initiative

"Get this book. Read it. Step up. Amid a million reasons to shrink away in frustration, Stephen Smith offers a clear and engaging guide to meeting the greatest challenge of our time…and reports on practical innovations that he has witnessed around the world--new ideas that are already in place and working. The book, by a leading voice in development economics, offers simple steps, small and large, to push the fight forward." —Jonathan Morduch, NYU Wagner Graduate School of Public Service, and co-author of The Economics of Microfinance

"Offers sensible guidelines to both individuals and corporations about how they can help, but its main contribution is to describe the successes of many programs on the ground, ranging from programs to improve nutrition to those working on education or microcredit, often run by local nongovernmental organizations, which have emerged to fill the gaps left by incompetent or corrupt governments." —Foreign Affairs

"A straightforward and accessible book on the causes of poverty and some successful programs for reducing it. Smith reports on a number of successful programs that have helped desperately poor communities overcome those traps. He emphasizes micro-projects that rely on the commitment, ingenuity and hard work of poor people themselves. Smith advocates a bottom-up approach that focuses on community efforts and relies on the generosity and involvement of individuals and non-government organizations." —Washington Post
St. Martin's Griffin, 9780230606159, 272pp.
Publication Date: September 15, 2008
About the Author
Stephen C. Smith is Professor of Economics at George Washington University. He is the author of Ending Global Poverty.