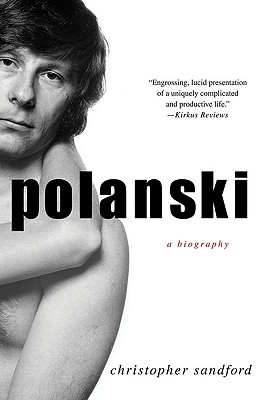 Polanski (Hardcover)
Palgrave MacMillan, 9780230607781, 387pp.
Publication Date: September 2, 2008
* Individual store prices may vary.
or
Not Currently Available for Direct Purchase
Description
This dramatic account weaves together the rich and complex life of the celebrated and controversial film director, Holocaust survivor, and exile, based on a wealth of sources and new material. New revelations about Polanski's life include:
-- The connection between his mother's death in Auschwitz and wife Sharon Tate's murder by the Manson family both women were pregnant
-- His radical transition from childhood poverty in a Krakow ghetto to a glamorous Hollywood life among socialites
-- The psychological complexity and central thread of sexuality that runs throughout his films and his relationships with younger women
-- A culmination of tragedies in Polanski's life, from the Holocaust to the Manson murders to his sexual assault charges and subsequent exile from the U.S.
The unique humor of the "rascal genius" that keeps the world watching and awaiting his new projects
Acclaimed biographer Sandford draws on dozens of interviews with actors who have worked with Polanski, as well as previously sealed transcripts of his criminal hearings, testimony before the California grand jury following the accusations that led to his exile, and personal reflections on the murders of Sharon Tate and other friends of the couple. Polanski's films from 1962 to 2005 are contextualized within his life, including such highlights as Rosemary's Baby, Chinatown, and the Oscar-winning The Pianist. Sandford's fascinating biography illuminates the life and work of one of the most important careers in modern cinema.
About the Author
Christopher Sandford has published acclaimed biographies of Kurt Cobain (now in development as a major feature film), Eric Clapton, Mick Jagger, David Bowie, Paul McCartney, Keith Richards, and Bruce Springsteen. He has worked as a film and music writer and reviewer for over twenty years, and Rolling Stone has called him "the pre-eminent author in his field today." He divides his time between England and Seattle.
Praise For Polanski…
"In this fine biography, Sandford gives [Polanski's] films the praise they deserve, and he is fair as well to Polanski the man."--Jonathan Yardley, Washington Post Book World "Engrossing, lucid presentation of a uniquely complicated and productive life... In slyly playful prose... Sandford admirably extracts all of the salient information from the maelstrom of controversy and urban myth surrounding Polanski."--Kirkus Reviews "…Sandford's obvious knowledge and critical estimation of Polanski's work conveys a tough but appealing fairness that should be welcomed by scholars and lay readers alike."--Library Journal "...clear-eyed, entertaining..."--L.A. Weekly "Sandford's emphasis on accuracy... is impressive."--The Seattle Times "Polanski fetishists will luxuriate in Sandford's details of Polanski's schizophrenically fascinating life."--New York Press "At a certain point in his well-researched, decently written biography of Roman Polanski, Christopher Sandford characterizes his subject as "a permanent alien," which is about as good a summary of the director as you are likely to encounter."--Richard Schickel, Los Angeles Times "Respectful but smoothly objective... Using material drawn from more than 270 interviews with friends, relatives, and acquaintances, Sandford's biography is rich with the sort of anecdotes and minutiae true fans of an artist love to devour... all brought together by a lively style that manages to be sympathetic but also miles from being hagiographic."--Chad Denton, http://liheliso.com/ "Incisive, gripping and carefully-researched biography of one of the most polarizing figures of modern cinema. Sandford has clearly devoted considerable efforts to teasing out the myth from the reality of Polanski's extraordinary life."--Andrew Morton, author of Tom Cruise: An Unauthorized Biography "Biographies of living figures are generally embarrassing. This one, unauthorized, critically admiring, expertly put together, is an exception, a notable tribute to a rascal genius with an unending capacity for surprise."--The Spectator "Sandford's Polanski emerges as a cross between Oliver Twist and Artful Dodger, and is by and large sympathetic."--The Guardian Praise for Christopher Sandford's previous books: Springsteen: Point Blank"A loving yet unflinching portrait ... a deft account based on exhaustive research and interviews.... The book is most compelling, in its description of how Springsteen's social conscience grew as he matured ... a worthy analysis of rock's most generous soul ... This book makes one realize Springsteen deserves any peace he has found."--Boston Globe Kurt Cobain"A solidly researched and coherently argued portrait of Nirvana's front man."--Amazon.com Keith Richards: Satisfaction"Sandford does an expert job of capturing a complicated subject ... his easy storytelling style and expert musical knowledge make for a satisfying read."--Publishers Weekly
Advertisement