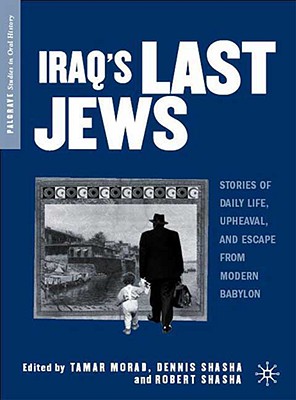 Iraq's Last Jews (Hardcover)
Stories of Daily Life, Upheaval, and Escape from Modern Babylon (Palgrave Studies in Oral History)
Palgrave MacMillan, 9780230608108, 220pp.
Publication Date: October 1, 2008
Other Editions of This Title:
Paperback (11/17/2009)
* Individual store prices may vary.
Description
Iraq's Last Jews is a collection of first-person accounts by Jews about their lives in Iraq's once-vibrant, 2500 year-old Jewish community and about the disappearance of that community in the middle of the 20th century. This book tells the story of this last generation of Iraqi Jews, who both reminisce about their birth country and describe the persecution that drove them out, the result of Nazi influences, growing Arab nationalism, and anger over the creation of the State of Israel.
About the Author
TAMAR MORAD is a journalist who has worked at the Wall Street Journal, Jerusalem Post, and the Israeli daily Ha'aretz. ROBERT SHASHA is founder and president of the Cotswold Group, a real estate ownership and management company. DENNIS SHASHA is a professor of computer science at the Courant Institute of New York University, USA.
Praise For Iraq's Last Jews: Stories of Daily Life, Upheaval, and Escape from Modern Babylon (Palgrave Studies in Oral History)…
"These stories provide more than just the details of Iraq's former Jewish community; we learn so much about that country's larger history and culture… Iraq's Last Jews is without a doubt the most surprising and informative book about that country's culture and history to date."--The New York Post "Provides for the first time a good glimpse of the history and the plight of the Iraqi Jewish community to a broad range of readers . . . Highly recommended for readers interested in exploring this unfortunately neglected part of Jewish history."--The Jerusalem Post "An intense piece of literature . . . cast[s] a new light on Iraq and the country's recent past, as seen through the eyes of people who were ultimately forced to flee and make new lives abroad."--Jewish Book World "The many reports here . . . are fascinating in their examination of aspects of Jewish life not previously well known . . . Highly recommended."--Choice "Editors Tamar Morad, Dennis Shasha and Robert Shasha have trimmed the narratives skillfully to present a composite picture of a once-thriving community . . . The small but significant acts of kindness and heroism that punctuate this tragic tale lend it an air of humanity and hope, as well as the fact that by its mere existence, there is the opportunity to learn from the mistakes of the past and forge a brighter future.--The Jewish Journal, Boston North "The moving experiences, insights, and the story of how the Israelis spirited masses out of the country make this a very special volume that needed to be written."--Jewish Voice and Opinion "In this fascinating book, the last generation of Iraqi Jews tells their story in their own words. It's a tragic and profoundly moving account. This volume is a must-read for understanding one of the most important and overlooked aspects of the Middle East—the fate of Jews in Arab countries."--David A. Harris, Executive Director, American Jewish Committee "Iraq's Last Jews is a thoroughly researched, riveting account of the last generation of Iraqi Jews. The editors have identified some of the most remarkable stories about this community, and in doing so have brought to light the rich, sometimes sad, always interesting history of the oldest Jewish diaspora in the world. This book will be of great value to all who care about the history of the Middle East, Iraq in the twentieth century, and the saga of the last Jews of Arab lands."--David Landau, former editor-in-chief, Ha'aretz "This important book opens a window onto the fate of the Jewish community of Iraq, which for many years had been obscured by attempts to hide the brutal policies practiced by state governments against the Jews. It is possible now to get a real picture of the suffering of the Babylonian Jewish community as expressed in these authentic testimonies. The appearance of this book in English is a great service to Western readers."--Nissim Kazzaz, Ben Gurion University, member of the Academic Committee of the Babylonian Jewry Heritage Center, Or-Yehuda and the Association of Jewish Academics from Iraq in Israel "In this fascinating book, the last generation of Iraqi Jews tells their story in their own words. It's a tragic and profoundly moving account. This volume is a must-read for understanding one of the most important and overlooked aspects of the Middle East—the fate of Jews in Arab countries."--David A. Harris, Executive Director, American Jewish Committee "Iraq's Last Jews is a thoroughly researched, riveting account of the last generation of Iraqi Jews. The editors have identified some of the most remarkable stories about this community, and in doing so have brought to light the rich, sometimes sad, always interesting history of the oldest Jewish diaspora in the world. This book will be of great value to all who care about the history of the Middle East, Iraq in the twentieth century, and the saga of the last Jews of Arab lands."--David Landau, former editor-in-chief, Ha'aretz "This important book opens a window onto the fate of the Jewish community of Iraq, which for many years had been obscured by attempts to hide the brutal policies practiced by state governments against the Jews. It is possible now to get a real picture of the suffering of the Babylonian Jewish community as expressed in these authentic testimonies. The appearance of this book in English is a great service to Western readers."--Nissim Kazzaz, Ben Gurion University, member of the Academic Committee of the Babylonian Jewry Heritage Center, Or-Yehuda and the Association of Jewish Academics from Iraq in Israel "This compilation of narratives succeeds in painting a much broader view of this community's transition than the more personal and thus restricted accounts of many previous authors...Beautifully portrayed are the Jews' precarious existence in Iraq after the departure of most of the community, the affection for the life they remembered before the Bathists, and finally the vicissitudes of resettlement and the lowered status for most emigrants, especially in Israel."--L. D. Loeb, Choice
or
Not Currently Available for Direct Purchase