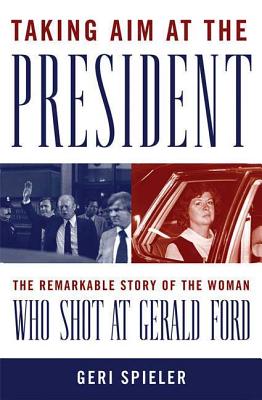 Taking Aim at the President: The Remarkable Story of the Woman Who Shot at Gerald Ford (Hardcover)
The Remarkable Story of the Woman Who Shot at Gerald Ford
Palgrave MacMillan, 9780230610231, 246pp.
Publication Date: December 1, 2008
* Individual store prices may vary.
or
Not Currently Available for Direct Purchase
Description
Winner of the 2009 San Francisco Book Festival Award (Wild Card category)
"I'm not sorry I tried...if successful, the assassination...just might have triggered the kind of chaos that could have started the upheaval of change." --Sara Jane Moore in 1976
Journalist Geri Spieler met would-be assassin Sara Jane Moore while she was in prison; "Taking Aim at the President" is based on over two decades of interviews as well as independant research. Spieler follows Moore's actions from her childhood in a small West Virginia town to her release from prison in December 2007. Moore's life was never conventional, and along the way she entered and dropped out of the military, was married five times, and was both a political radical and an FBI informant. Focusing on the complex psychology and motivations of a quintessentially desperate housewife and the only woman to ever fire a bullet at an American president, Spieler delivers a nuanced portrait of an elusive person and a fascinating glimpse back at a turbulent period in American history.
About the Author
Geri Spieler is an investigative journalist and award-winning speaker. She has written for the Los Angeles Times, San Francisco Chronicle, and Forbes. She has a strong professional relationship with her subject, Sara Jane Moore, who she has visited and interviewed in prison for the last thirty years.
Praise For Taking Aim at the President: The Remarkable Story of the Woman Who Shot at Gerald Ford…
Winner of the 2009 San Francisco Book Festival Award (Wild Card category)
 "Spieler offers a portrait of an erratic, unstable woman with a protean capacity to shift identities, with the 1960s and '70s as a dramatic backdrop. Fans of true crime accounts or contemporary history will savor this portrait of the first woman to make an assassination attempt on an American president." -- Publishers Weekly
 "It is the obligation of the thoughtful journalist to tell us something meaningful that we don't already know.  In
Taking Aim at the President
, Geri Spieler is more than up to the task.  The byzantine tale of Sara Jane Moore's double, triple and quadruple lives, with so many bizarre groups -- including the federal government -- exploiting her vulnerabilities, is the stuff of Hollywood fiction. The fact that it's all true, and told with precision by Spieler, raises Sara Jane's story to something significantly more than a footnote to history." --Alan Weisman, author of
Prince of Darkness: Richard Perle, The Kingdom, the Power & the End of Empire in America
and
Lone Star: The Extraordinary Life and Times of Dan Rather
 "A well-written, fascinating story about an inexplicable moment in American History." -- Carl Stern, Professor of Media and Public Affairs, George Washington University, and former NBC News correspondent 
"Geri Spieler has done a marvelous job of unraveling the details surrounding one of the most bizarre events in American history, Sara Jane Moore's attack on Gerald Ford." – James Dalessandro, author of 1906 and Citizen Jane
"Talk about truth being stranger than fiction! Captivating." —
The San Francisco Chronicle
Advertisement