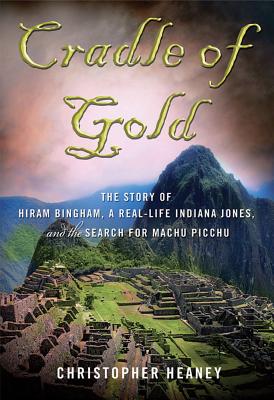 Cradle of Gold: The Story of Hiram Bingham, a Real-Life Indiana Jones, and the Search for Machu Picchu (Hardcover)
The Story of Hiram Bingham, a Real-Life Indiana Jones, and the Search for Machu Picchu
Palgrave MacMillan, 9780230611696, 285pp.
Publication Date: April 13, 2010
* Individual store prices may vary.
or
Not Currently Available for Direct Purchase
Description
In 1911, a young Peruvian boy led an American explorer and Yale historian named Hiram Bingham into the ancient Incan citadel of Machu Picchu. Hidden amidst the breathtaking heights of the Andes, this settlement of temples, tombs and palaces was the Incas' greatest achievement. Tall, handsome, and sure of his destiny, Bingham believed that Machu Picchu was the Incas' final refuge, where they fled the Spanish Conquistadors. Bingham made Machu Picchu famous, and his dispatches from the jungle cast him as the swashbuckling hero romanticized today as a true Indiana Jones-like character. But his excavation of the site raised old specters of conquest and plunder, and met with an indigenous nationalism that changed the course of Peruvian history. Though Bingham successfully realized his dream of bringing Machu Picchu's treasure of skulls, bones and artifacts back to the United States, conflict between Yale and Peru persists through the present day over a simple question: Who owns Inca history?
In this grand, sweeping narrative, Christopher Heaney takes the reader into the heart of Peru's past to relive the dramatic story of the final years of the Incan empire, the exhilarating recovery of their final cities and the thought-provoking fight over their future. Drawing on original research in untapped archives, Heaney vividly portrays both a stunning landscape and the complex history of a fascinating region that continues to inspire awe and controversy today.
About the Author
Christopher Heaney worked as a journalist in Peru on a Fulbright fellowship. He has written articles on Hiram Bingham for the New Republic and The New York Times. A graduate of Yale University, he is currently a doctoral candidate in Latin American History at the University of Texas, Austin.
Praise For Cradle of Gold: The Story of Hiram Bingham, a Real-Life Indiana Jones, and the Search for Machu Picchu…
"Hiram Bingham and the Machu Picchu saga deserve no less than Cradle of Gold, Christopher Heaney's thorough, engrossing portrait of a mercurial figure at a crucial juncture of his life."—The Wall Street Journal
"Heaney tells Bingham's fascinating story well. But this excellent book is more than just a rollicking adventure tale – it is also a nuanced study of conflicting claims on history."--
Financial Times
"A well-researched and very readable biography of Bingham…[Heaney] probes the depths of Bingham's work and character, examining setbacks, scandals, and achievements and skillfully unraveling Bingham's role in the controversy that still exists today between the government of Peru and Yale University over the ownership of the Machu Picchu burials and artifacts."—Library Journal
"Offers a wealth of information."—The Chronicle of Higher Education
"A lively, suspenseful, and well-written yarn...Heaney leads us through jungle trails, up into the Andes, across rushing rivers, along the original Inca Trail, to Espiritu Pampa, 'The Plain of Ghosts' and location of Vilcabamba, the Incan city built in flight from the Spanish — all juxtaposed with the cruel and ruthless history of the Spaniards in Peru…and the destruction of an empire that was larger than any other on earth, stretching from Chile to Colombia, the Pacific to the Amazon."--Providence Journal
"A fascinating work of narrative history that combines careful research with a subtle portrait of a man of great contradictions. Hiram Bingham was an explorer, adventurer, extraordinary scholar, U.S. Senator, and, in the eyes of many, high-handed thief. Heaney's highly readable book at last gives him his due." – Adam Hochschild, author of King Leopold's Ghost
"Full of intriguing detail and carefully researched, this is a fitting testimony to one of the greatest of American explorers."-- Hugh Thomson, author of The White Rock.
"Cradle of Gold brilliantly tells the story of how Hiram Bingham revealed Machu Picchu to the world. Chris Heaney combines dogged research with a gift for storytelling and a historian's rich and nuanced understanding of his subject's times. Bingham emerges as a complex, even tragic figure who, for all his faults, generated real excitement about Peru's past as no one had before.  Heaney beautifully and skillfully captures the cultural clash between Bingham and his Peruvian hosts, without for a moment losing the momentum of this gripping story.  The result is an immensely compelling tale of exploration and exploitation that has waited nearly a century for the right chronicler. In Chris Heaney, Bingham's story has finally found it."—Roger Atwood, author of Stealing History: Tomb Raiders, Smugglers, and the Looting of the Ancient World
"An unforgettable journey into the heart of Peru's past that takes the reader on a hunt for the lost cities of the Incas, the famous Machu Picchu among them.  It's also a sensitively written portrait of Hiram Bingham, one of the last great explorers of our time--a man set on fulfilling his destiny--and a judicious historical account of the disenfranchisement of the Peruvian people, who had their heritage stolen by those claiming to protect it."—Peter Nichols, author of Final Voyage and A Voyage for Madmen
"Cradle of Gold illuminates Bingham's stunning and controversial discovery-and singular life-with gripping pacing and vivid detail. The book's young author, Christopher Heaney, is a notable discovery in his own right."—Jim Rasenberger, Author of America, 1908
"Hiram Bingham's excavation of Machu Picchu in the early twentieth century is one of the most intriguing stories in a crowded era of exploration."—Candice Millard, author of The River of Doubt
"Cradle of Gold is a wonderfully moving account of those who invented and reinvented three cities nestled deep in the eastern slopes of the Peruvian Andes: Vitcos, Vilcabamba, and Machu Picchu. It is also a subtle, penetrating study of the imperial hubris of early twenty-century US archeology as it traces the origins of Yale's misbegotten collections of Peruvian 'antiquities.' It is a powerfully argued ethical call for the 'skulls and bones' of hundreds of both humble and powerful Andeans to be returned to Peru, to their original, ancient, resting grounds, not to museums of natural history where they do not belong."--Jorge Cañizares-Esguerra, Alice Drysdale Sheffield Professor of History, University of Texas at Austin, author of Puritan Conquistadors: Iberianizing the Atlantic, 1550-1700
Advertisement