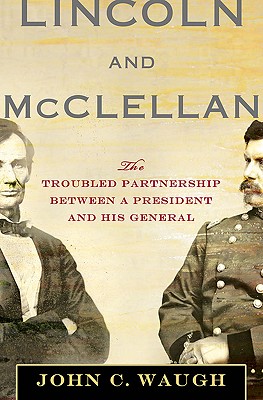 Lincoln and McClellan: The Troubled Partnership Between a President and His General (Hardcover)
The Troubled Partnership Between a President and His General
Palgrave MacMillan, 9780230613492, 252pp.
Publication Date: May 11, 2010
Description
There was no more remarkable pair in the Civil War than Abraham Lincoln and George McClellan. At only 35 years old, McClellan commanded the Ohio troops early in the war, and won skirmishes for the Union in western Virginia. After the disastrous Union defeat at Bull Run in the summer of 1861, Lincoln sent word for McClellan to come to Washington, and soon elevated him to commander-in-chief of the Union army. But in the late summer and fall of 1861, things took a turn for the worst. Meticulous in his planning and preparations, McClellan began to delay attacking the enemy and developed a penchant for vastly overestimating the Confederate forces he faced. All of this hampered his ability to lead an aggressive force in a fast-moving battlefield environment. Finally losing his patience, Lincoln was famously quoted as saying, "If General McClellan does not want to use the army, I would like to borrow it for a time."
Lincoln and McClellan takes an in-depth look at this fascinating relationship, from the early days of the Civil War to the 1864 presidential election when McClellan ran against Lincoln on an anti-war platform and lost. Here, award-winning author John C. Waugh weaves a tale of hubris, paranoia, failure, and triumph, illuminating as never before this unique and complicated alliance.
About the Author
John C. Waugh is a historian, and was a correspondent and bureau chief for "The Christian Science Monitor." As a journalist, he received the American Bar Association's Silver Gavel Award and has contributed to "The Washington Post Book World, The New York Times," and "The Boston Globe," among others. He previous books, all on the Civil War era, include "Reelecting Lincoln," and "The Class of 1846." He lives in Pantego, TX.
Praise For Lincoln and McClellan: The Troubled Partnership Between a President and His General…
Praise for Lincoln and McClellan:
Enjoyable . . . [Waugh] convincingly paints McClellan as a paranoid narcissist who considered Lincoln a "baboon." . . . . The dynamic between Lincoln and the toweringly neurotic McClellan makes for a revealing case study of the importance of personality and character in war."--
Publishers Weekly
 "In this stimulating new book about the most puzzling personality of the Civil War and his uneasy relationship with Lincoln, Jack Waugh treats George B. McClellan with conspicuous fairness.  Nevertheless, the general's glaring deficiencies, outsize ego, and petty tendency to blame others for his failures come through loud and clear, contrasting with the sure, steady, and patient demeanor of his long-suffering commander in chief."--James McPherson
"With all the insight and verve that the history-reading public has come to expect from him, Jack Waugh has expertly brought to life on the printed page the interwoven stories of these two brilliant men and caught the essence of what prevented the success of their collaboration."--Steven Woodworth, author of Sherman 
"None spins a yarn more compellingly than John C. Waugh—particularly when it involves human conflict and its historical consequences.  Now this gifted writer meets an irresistible subject and the result is a crackling good story about war, politics, and the clash of titanic personalities.  Lincoln and McClellan come vividly to life in this book—and it is riveting to be in their company."--Harold Holzer, author of
Lincoln: President-Elect
"John C. Waugh once again has melded an historian's skills with his experiences as a correspondent covering the Washington political scene, to give readers a tour de force. In a graceful narrative, Waugh unfolds the story of the clash of wills between President Lincoln as commander in chief and General McClellan. Because of his focus on the relationship of the commander in chief and a senior general, the book is relevant to readers today." -- Edwin Cole Bearss, author of Fields of Honor and Chief Historian Emeritus, National Park
"The Mathew Brady photograph pictures them facing-off after Antietam -- the elongated Commander-in-Chief Lincoln confronting his short-statured commander of the Army of the Potomac, General McClellan. It is a vivid reminder of two leaders in conflict -- one, self effacing but impatient, the other, self-important and arrogant. This story is told with great verve here by Jack Waugh. Wonderfully written, the author measures these leaders with a perception few possess. His effort illuminates why Lincoln was a great leader and McClellan a laggard. It is most welcome as we end Lincoln's bicentennial and begin the sesquicentennial of the Civil War." --Frank J. Williams, founding Chair of The Lincoln Forum and a member of the U.S. Abraham Lincoln Bicentennial Commission
"Drawing upon a wide range of personal accounts, Waugh has crafted the story of the Lincoln-McClellan relationship with an insight and an intimacy that few writers have ever achieved.  A dramatic story, captivatingly told."—James I. Robertson, Jr., author of Stonewall Jackson: The Man, The Soldier, The Legend and Gods and Generals
 "Over the past quarter century, I have followed with great admiration Jack Waugh's rise to his current perch among the nation's preeminent Civil War historians.  Each of his previous books, addressing monumental personalities associated with that searing national conflict, justifiably attracted legions of appreciative readers.  But, in my opinion, Lincoln and McClellan represents the pinnacle of this gifted story-teller's career.  It is surely his masterwork."—Richard A. Baker, Historian Emeritus, United States Senate
"Waugh focuses on the general's tragic inability to subordinate himself to a man whose greatness he never understood. A handy volume that efficiently covers all the essentials."--Kirkus
"Informative and easily digestible."  --Booklist
"One of the most complex relationships between commander in chief and commanding general outside the Truman-MacArthur tangle is expertly examined." --
American History Magazine
 "McClellan's story of an unraveling career and reputation, as told by North Texas historian and author John C. "Jack" Waugh, is one that's impossible to forget."--
Fort Worth Star Telegram
"Highly recommended for history buffs."--
Library Journal
Advertisement