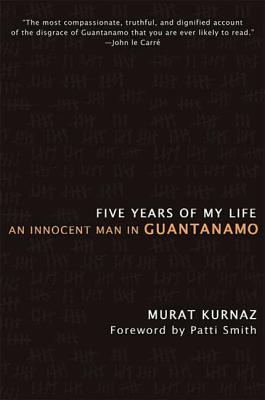 Five Years of My Life
An Innocent Man in Guantanamo
Paperback

* Individual store prices may vary.
Other Editions of This Title:
Hardcover (2/1/2008)
Description
In October 2001, nineteen-year-old Murat Kurnaz traveled to Pakistan to visit a madrassa. During a security check a few weeks after his arrival, he was arrested without explanation and for a bounty of $3,000, the Pakistani police sold him to U.S. forces. He was first taken to Kandahar, Afghanistan, where he was severely mistreated, and then two months later he was flown to Guantanamo as Prisoner #61. For more than 1,600 days, he was tortured and lived through hell. He was kept in a cage and endured daily interrogations, solitary confinement, and sleep deprivation. Finally, in August 2006, Kurnaz was released, with acknowledgment of his innocence. Told with lucidity, accuracy, and wisdom, Kurnaz's story is both sobering and poignant--an important testimony about our turbulent times when innocent people get caught in the crossfire of the war on terrorism.
Praise For Five Years of My Life: An Innocent Man in Guantanamo…
"The most compassionate, truthful and dignified account of the disgrace of Guantanamo that you are ever likely to read." —John le Carré
"I thank God that Murat kept his sanity in the hell of injustice and torture of nearly 5 years in Guantanamo so he could tell his story. May it be studied in every school and college in Europe and the USA. May it help to close down all the illegal and secret prisons and camps, as well as Guantanamo, and restore the prisoners to their families. I am sure Murat's book will educate a whole generation about justice and the defense of human rights." —Vanessa Redgrave
"Like many of the men imprisoned in Guantánamo, Murat Kurnaz was held for years without proper charge or trial. After intensive campaigning by his friends, family and Amnesty International members all over the world, he was finally released. This book is a profound and detailed account of his experiences. After suffering torture and detention without trial, it is testament to great strength of character that he is able to tell his story with such power and clarity." —Kate Allen, Director, Amnesty International UK
"Murat makes the horrors and inanities of Guantánamo so real; his voice is by turns young and headstrong, wry and wise. Murat's mother came to the Unites States to hear our first Guantánamo case argued before the Supreme Court back in 2004 - when I met her, I didn't know whether she would ever see her son again. Now he is home safe and has produced this riveting and moving account of his torture and abuse at the hands of the U.S. government to shine a light in a dark place and try to help all those still languishing without hope. This is a must read." —Michael Ratner, President of the Center for Constitutional Rights and attorney representing the Guantánamo detainees.
"Kurnaz recounts his woes, and those of his fellow prisoners, with modesty and compassion. . . . He has written a measured and readable account, which is often even humorous in a Swiftian sort of way." —The Economist
"A vital document that should - rightly - shock and appall." —Kirkus Reviews
"A plainspoken account, Five Years of My Life focuses on the daily humiliations and surreal texture of life at Guantanamo" —Mother Jones
"May well represent our best hope yet of preserving the truth about this depraved chapter in American history...Kurnaz describes the varied tortures to which he was subjected for the next five years with such a level-headed lack of self-pity that they come across as neither bitter rallying cry nor unbearable litany of torment. In his gentle, understated way, Kurnaz describes the reality behind the euphemisms used to describe the 'enhanced interrogation practices' the Bush administration has openly authorized in the 'war on terror'." —The Santa Barbara Independant
"Kurnaz...avoids sensationalism for a harrowing record of barbarities carried out in the name of democracy...[written] in stark, unadorned prose, with no scores to settle, knowing that his account is beyond most people's imagination." —The Guardian (UK)
"This is a book politicians should read, and should inspire anguished soul-searching among the rest of us." —The Washington Post
"Kurnaz reveals Guantanamo shorn of media spin." —The Guardian (UK)
"[Kurnaz] is the same age as my son, Jackson. When I read the story, I realised how I would feel as a mother if my son had been taken away at the age of 20, put into chains, without any hope of leaving, without any direct charge." —Patti Smith
St. Martin's Griffin, 9780230614413, 256pp.
Publication Date: August 4, 2009
About the Author
Murat Kurnaz is a Turkish citizen and legal resident of Germany, where he was born in 1982. He was in the process of becoming a German citizen when he was arrested in Pakistan and held prisoner for five years. He now lives in Germany. Five Years of My Life is his first book.