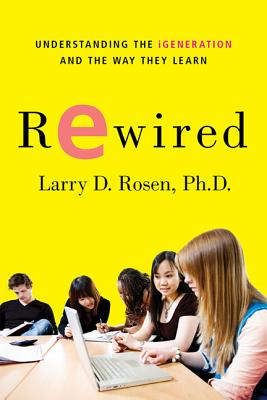 Rewired: Understanding the iGeneration and the Way They Learn (Paperback)
Understanding the iGeneration and the Way They Learn
Palgrave MacMillan, 9780230614789, 250pp.
Publication Date: March 30, 2010
Description
Look around at today's youth and you can see how technology has changed their lives. They lie on their beds and study while listening to mp3 players, texting and chatting online with friends, and reading and posting Facebook messages. How does the new, charged-up, multitasking generation respond to traditional textbooks and lectures? Are we effectively reaching today's technologically advanced youth? "Rewired "is the first book to help educators and parents teach to this new generation's radically different learning styles and needs. This book will also help parents learn what to expect from their "techie" children concerning school, homework, and even socialization. In short, it is a book that exposes the impact of generational differences on learning while providing strategies for engaging students at school and at home.
About the Author
Dr. Larry Rosen is a professor of Psychology and the author of Me, MySpace, and I: Parenting the Net Generation and TechnoStress: Coping with Technology @ Work @ Home @ Play. He has over 25 years of research experience on the impact of technology among children, adolescents, young adults, parents, school teachers, and business people in more than 30 countries. Dr. Rosen is often quoted in magazines and newspapers such as Newsweek, USA Today, and the Chicago Tribune; regularly appears on television and radio; and gives keynote speeches around the world regarding the psychology of technology. He lives in Dominguez Hills, CA.
Praise For Rewired: Understanding the iGeneration and the Way They Learn…
"This book offers insight and help to motivate and maximize learning for the Internet Generation. Rosen offers invaluable guidance, support, and ideas for parents and teachers."--Eric Milou, Professor of Mathematics, Rowan University "Larry Rosen's pioneering work in this field has been well-recognized by his professional colleagues - those of us in the field who are seeking to help educators, policy-makers, and parents understand what is happening as our society and our youth embrace digital media technologies. Larry's research-based, positive, proactive messages are a welcome relief from the unsupported fear-based messages that are unfortunately also present. Rewired should be considered a 'must-read' by all professionals who work with youth, especially those in leadership positions."-- Nancy Willard Director of Center for Safe and Responsible Internet Use Praise for Me, Myspace, and I:
"Great resource for parenting the Net Generation" --Scholastic Parent & Child Magazine
"A timely and comprehensive look at the virtual world. Provides concrete answers to parents' pressing questions about social networking and how children live online. Written by one of the top authorities on the impact of technology, Me, MySpace, and I is a must read for all parents."--Dr. Kimberly Young, author of Caught in the Net and Tangled in the Web
Coverage from NPR
Advertisement