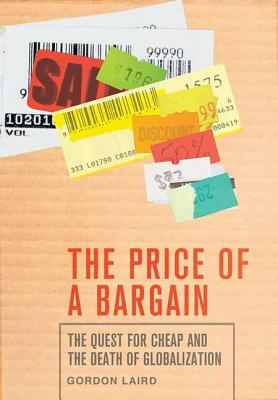 The Price of a Bargain: The Quest for Cheap and the Death of Globalization (Hardcover)
The Quest for Cheap and the Death of Globalization
Palgrave MacMillan, 9780230614918, 282pp.
Publication Date: November 10, 2009
* Individual store prices may vary.
or
Not Currently Available for Direct Purchase
Description
In this book, Laird traces the bargain that touchstone of American culture from its humble dollar-store origins to its recent role as global juggernaut. Along the way, he discovers that much of today's collapsing consumer economy is dangerously dependant upon unsustainable labor, transport, resources, trade imbalances, and consumer debt. Through interviews with everyone from box store executives to illegal immigrants, a single question emerges: Is the Wal-Mart culture sustainable on a global level? From Asia's factory borderlands to rural Mexico, from Las Vegas to the Arctic Circle, Laird explores the hidden revolution of discounting, and the promise and consequence of everyday low prices.
About the Author
Gordon Laird is a journalist who has been featured on CNN and NPR, and in Mother Jones, among many others, and has been a features writer for the Far Eastern Economic Review. Winner of several Canadian National Magazine Awards and named "one of the best and best-informed minds in the world" by The Globe and Mail, Laird is Media Fellow emeritus at the Sheldon Chumir Foundation for Ethics in Leadership. He lives in Calgary.
Praise For The Price of a Bargain: The Quest for Cheap and the Death of Globalization…
Praise for The Price of a Bargain: "Laird deserves props for taking on the Big Box bastards. When you walk into that Wal-Mart Church of the Holy Cheap, nothing on the incredible $15 price-tag tells you the sneakers were made with the blood of a Guangdong union organizer.  In grab-you-by-the-lapels stories, Laird tells you the real cost of your got-it-for-nothing storegasm." –Greg Palast, The New York Times bestselling author of The Best Money Democracy Can Buy "In this gritty and entertaining look at our modern love affair with global bargains and Las Vegas sleaze, Gordon Laird brilliantly adds up the real cost of shopping at big boxes for disposable stuff. And it's a discounted hell of cheap wages, poisonous landscapes, toxic toys, and insecure markets. Consumers have unwittingly made a gambler's economy that is now trying to outsource its own moral reckoning." –Andrew Nikiforuk, author of Tar Sands: Dirty Oil and the Future of a Continent, and winner of the 2009 Rachel Carson Environment Book Award

"Gordon Laird is a reporter of rare skill and extraordinary thoughtfulness, and he has fixed his keen eye on one of the most crucial questions of this young, tumultuous century: the true cost of things. Making those calculations is the essential first step in learning to live within our means – and the planet's – and The Price of a Bargain has provided us with an invaluable primer on how to do the math accurately." –Chris Turner, author of The Geography of Hope: A Tour of the World We Need  "A provocative, well-researched, and illuminating tour of the forces shaping our consumer culture. . . . At its core, The Price of a Bargain is about sustainability. Our modern economic practices have created massive amounts of waste—both human and environmental—by externalizing the true costs of things. As the U.S. economy shifted from manufacturing to consumption, the quantity of things around us grew dramatically, but our wages began to fall. Bargains provided an illusion that our standard of living was keeping pace. Laird makes a strong case that illusion is over for good." –Frank Marquardt, Triple Pundit
Advertisement