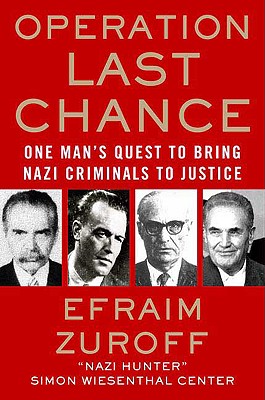 Operation Last Chance
One Man's Quest to Bring Nazi Criminals to Justice
Hardcover

* Individual store prices may vary.
Other Editions of This Title:
Paperback (3/15/2011)
Description
Sixty years after the end of World War II, not all those who were faithful to the Third Reich are dead - some members of the Nazi party and their collaborators are still alive, and increasingly difficult to track down. Time is rapidly running out, but Efraim Zuroff won't give up. Launching Operation Last Chance in 2002, he spearheaded a vast public campaign to locate and bring to justice the worst suspected Nazi criminals before ill health or death spare them from potential punishment. Despite the passage of many years, the reluctance of many governments to cooperate, and even death threats and a price on his head, Zuroff's project yielded the names of over 520 hereto unknown suspects in 24 different countries and led to dozens of murder investigations, as well as several indictments and extradition requests currently pending.
Combining the thrill of a detective story with the inherent poignancy of the history of World War II and its aftermath, "Operation Last Chance" delivers the important and moving story of one man's heroic efforts to honor the victims of the Holocaust.
Praise For Operation Last Chance: One Man's Quest to Bring Nazi Criminals to Justice…
"A grim tale of one man's dedication to a legal and moral cause and a shocking expos of the widespread indifference and even antagonism that he has encountered.....A sobering, valuable resource for future historians."-- Kirkus
"It is never too late to bring those responsible for the horrors of the Holocaust to justice.  Operation Last Chance: One Man's Quest to Bring Nazi Criminals to Justice recounts how, with tireless energy, dedication and passion Efraim Zuroff did just that.  His is an essential story that demonstrates the good an individual can achieve when committed to justice and the truth."--Abe Foxman, National Director of the Anti-Defamation League and author of  Never Again? The Threat of the New Anti-Semitism
"Written like a detective story, 
Operation Last Chance
 deals with fundamental issues of human justice under the German occupation, describing the author's efforts to uncover hidden wartime criminals.   Zuroff shares his successes and failures in tracking down Nazi murderers.  As readers, we become involved in his relentless pursuits.  This book should attract the interest of wide and varied audiences." --Nechama Tec, Holocaust Scholar & Author of
Defiance: The Bielski Partisans
 "Efraim Zuroff is the spiritual heir to Simon Wiesenthal. Courageous and careful, he has pursued Nazi war criminals to the end of the earth, to their dying day – always for the sake of justice, always in the name of memory. A historian, Zuroff writes like a novelist, but with a fidelity to truth that makes for brisk and compelling reading. He writes with humility and gratitude but also with admirable moral toughness -- Zuroff's assessment is unfailingly insightful and often haunting." --Michael Berenbaum, Director, Sigi Ziering Institute and Professor of Jewish Studies, American Jewish University "Zuroff gives us an understated yet gripping narrative of a life dedicated to justice--that the perpetrators and collaborators of the most total crime in human history not live on comfortably and free....An unbelievable book and a must-read."--Rabbi Irving Greenberg, Founding President, National Jewish Center for Learning and Leadership and Jewish Life Network, Chairman Emeritus, United States Holocaust Memorial Council "A fascinating book written from the heart. Zuroff knows what he is writing about. He has researched his topic very carefully, and is courageous in fighting old murderers. Whether these people get prison sentences or not, does not matter. Zuroff is doing his best, and the work he does will leave a permanent mark."--Yehuda Bauer, academic head of the International Task Force on Holocaust Education "At a time when memory is being increasingly twisted and challenged, Zuroff has written a book about modern history's greatest crime and how its lessons will influence the world's behavior."--Barry Rubin, Director of the Global Research in International Affairs Center of the Interdisciplinary Center on Herzliya, Israel, and author of
The Truth About Syria
 "Zuroff's log is an important record of free Nazis, and their atrocious crimes, which may yet spur their neighbors to action."--
Publishers Weekly
 "Zuroff's accessible book is an extraordinary read, providing a wealth of information about the role of collaborationist regimes in helping the Nazis and the degree to which most of the leaders of those units tasked with mass-murder went free in the West.  Zuroff also shows how some of these men have even remained heroes in their home countries because they are perceived as having fought communism, rather than having been vicious Nazis."  --Seth Frantzman,
The Jerusalem Post
Palgrave MacMillan, 9780230617308, 238pp.
Publication Date: November 10, 2009
About the Author
Dr. Efraim Zuroff is a historian who specializes in Holocaust history and established and directs the Israel Office of the Simon Wiesenthal Center and coordinates the Center's worldwide research on Nazi war criminals. Operation Last Chance (www.operationlastchance.org) which he launched together with Aryeh Rubin and the Targum Shlishi Foundation (www.targumshlishi.org) has been active in fourteen countries on three continents. He lives with his family in Efrat, Israel.
or
Not Currently Available for Direct Purchase