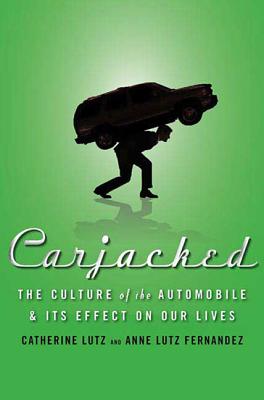 Carjacked
The Culture of the Automobile and Its Effect on Our Lives: The Culture of the Automobile and Its Effect on Our Lives
Hardcover

* Individual store prices may vary.
Description
Carjacked is an in-depth look at our obsession with cars. While the automobile's contribution to global warming and the effects of volatile gas prices is widely known, the problems we face every day because of our cars are much more widespread and yet much less known -- from the surprising $14,000 that the average family pays each year for the vehicles it owns, to the increase in rates of obesity and asthma to which cars contribute, to the 40,000 deaths and 2.5 million crash injuries each and every year.

Carjacked details the complex impact of the automobile on modern society and shows us how to develop a healthier, cheaper, and greener relationship with cars.
Praise For Carjacked: The Culture of the Automobile and Its Effect on Our Lives: The Culture of the Automobile and Its Effect on Our Lives…
"The authors capture the fantasy and reality of our love of cars.They hold up a mirror to we, 'the people,' to let us look at our individual and collective glamour and bloat. They ask, subtly and with a good amount of wit, if we know what we are doing to ourselves? You must read it to learn the answers, which might surprise you." —John Hofmeister, former president of Shell Oil, founder and CEO of Citizens for Affordable Energy and author of Why We Hate the Oil Companies

"Carjacked should be required reading for anyone with a driver's license. It lays out the ways that bigger, faster and more plentiful cars on the road have altered America in dramatic way, influencing foreign policy, infrastructure investment, national health and personal wealth. If we wish to drive into a better future, rather than collide with it head on, it's time to address our addiction to the automobile - and this book is the perfect starting place." —Leigh Stringer, president of Advance Strategies and author of The Green Workplace

"Exceptionally well-researched and passionately, yet logically, argued, Carjacked will make you rethink your relationship not only with your car, but with the entire economic and physical infrastructure that has built up around it. While acknowledging our love of cars, it offers practical advice on how to ensure that the relationship is affordable, beneficial and sustainable, both for individuals and for society." —Cleo Paskal, Associate Fellow, Royal Institute of International Affairs and author of Global Warring

"Strongly recommended for all willing to consider that we need to 'step away from the car." —Library Journal

"Knowledgeable survey of car culture." —Booklist

"Americans' infatuation with their cars is critiqued in this readable treatment. Replete with the ironic and irrational aspects of owning and driving cars, it partakes of car psychology to deliver its message about the statistical costs of four-wheeled freedom. Emphasizing the attachment of values such as personal independence to car ownership, not to mention self-image and status, Lutz and Fernandez cheerily saunter through automobile advertising and movies to show how mass media exploit people's desire to buy cars." —Booklist

"Authors Catherine Lutz and Anne Lutz Fernandez effectively and accessibly lay out the social, financial, historical, and of course, environmental impact of America's love affair with the internal combustion engine." —Planet Green

"Carjacked aims to answer certain questions that lie deep in our brains - the unnoticed, unremarked-upon equivalents of spare tires in trunks: Why do cars play such a central role in our lives" Are they really as essential as they seem? Is there a sager, saner way to live with the car and have the mobility we need?" —Connecticut Post

"This need for a more balanced transportation environment also underscores Catherine Lutz's and Anne Lutz Fernandez's powerful and sobering Carjacked, which examines the many unanticipated consequences of car culture. No mere 'anti-car' manifesto, Carjacked is an anthropological study of what the authors refer to as the "car system," of which the automakers are merely one element...They have assembled a fascinating and disturbing portrait of something we accept as normal -- indeed essential -- but which has, in many ways, betrayed much of its original promise." —The Winnipeg Free Press

"Thought-provoking inquiry into the role of cars in our lives, most especially the suburban lifestyle that cars created. Their main conclusion is for Americans to examine how they use their cars as opposed to how they think they use them. In other words, to strip away the romantic fancies fed by memories, folklore and advertisers, and face the reality of the best way to get from A to B. Such a reality check up, they argue, could result in a more rational approach to driving with people using cars less and walking or bicycling or taking buses or trains more." —The Providence Journal

"Rigorously researched and briskly written" —The Post and Courier
St. Martin's Press, 9780230618138, 272pp.
Publication Date: January 5, 2010
About the Author
Catherine Lutz is the Thomas J. Watson, Jr. Family Professor of Anthropology and International Studiesat Brown University where she holds a joint appointment with the Department of Anthropology. As an author and editor, Professor Lutz has published nine books, including Carjacked: The Culture of the Automobile and Its Effect on Our Lives.

Anne Lutz Fernandez is a former marketer and investment banker with fifteen years of corporate experience. She is the co-author of Carjacked: The Culture of the Automobile and Its Effect on Our Lives. She is an English teacher in Westport, Connecticut.