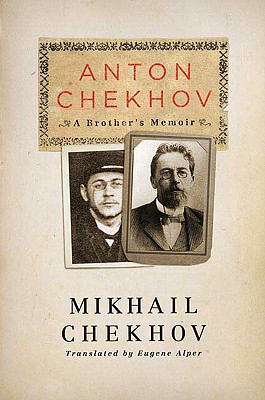 Anton Chekhov: A Brother's Memoir (Hardcover)
A Brother's Memoir
Palgrave MacMillan, 9780230618831, 238pp.
Publication Date: December 22, 2009
* Individual store prices may vary.
or
Not Currently Available for Direct Purchase
Description
In a style reminiscent of Anton Chekhov himself--realistic, intimate, and dynamic--Mikhail Chekhov shares unparalleled memories and insights, transporting readers into the world of the Chekhov family. He visits the places where his brother lived and worked and introduces the people he knew and loved, Leo Tolstoy and Piotr Tchaikovsky among them. As a unique eyewitness to the beloved writer's formative years and his artistic maturity, Mikhail Chekhov shows here first-hand the events that inspired the plots for The Seagull, The Black Monk, and The Steppe, among other enduring works. Captivating, surprising, and a joy to read, this memoir reveals the remarkable life of one the most masterful storytellers of our time.
About the Author
Mikhail Chekhov (1865-1936) was a writer and novelist in his own right, as well as Anton's assistant and secretary. His role as his brother's biographer began in 1905 when he was asked to share his recollections in a Moscow magazine. Mikhail died in Yalta in 1936 at the age of 71. Eugene Alper has been a translator for over twenty years and his work includes five major plays by Anton Chekhov (with Professor Carl Mueller), a memoir about Anton Chekhov (by Isaak Altshuller), and movie scripts and interviews for Paramount and Universal.
Praise For Anton Chekhov: A Brother's Memoir…
"A gripping study of Chekhov by his sibling…It offers a matchless eyewitness view of a man remarkable not just for literary genius but heroic decency."--The Sunday Times
"First published in 1933 and much referred to as source material in more formal biographies (such as those by David Magarshack, Philip Callow and Rosamund Bartlett), "Anton Chekhov: A Brother's Memoir" now finally has been translated into English, and it is rich in remembered details: who visited the family when, who drank what where, who tilled which field and gave which speech and made how many rubles and kopecks with which publication. Mikhail Chekhov remembers everything."--
The Los Angeles Times
 "Offering gem after gem, this volume joins other biographical observations that contribute to the Chekhovian mythology."--
Choice
 "There are memorable images that give us a taste of what a frisky, playful prankster Anton was before TB struck him down. He once went fishing with a friend in formal tails and top hat; he startled another sleeping friend with a flashlight in the face; he kept a pet mongoose that alarmed visitors."--
Kirkus
 "Mikhail writes about his brother with a warmth, clarity, and intimacy that only a brother can capture."--
Library Journal
 "This wonderful translation (by Eugene Alper) of a hundred-year-oldbiography by Anton Pavlovich's younger brother, secretary and assistant, offers uncommon first-hand insight into family dynamics and history as well as background on some of Chekhov's literary works. But the perspective of a sibling, the brother of a famous man, is intriguing enough in its own right, and one cannot help grazing this fertile biography in search of telling asides and tender criticisms, which areplentiful. It helps that Mikhail has something of his brother's cutting eye for detail, and that he does not stint on his opinions, be iton an ill-chosen summer cottage or on "The Beautiful Lika" who long sought the writer's affection."--
Russian Life
 "Provides a sense of Anton's life that the other books cannot."--
The Buffalo News
"It is wonderful to have this memoir finally translated into English. It provides a fascinating and absorbing portrait of Anton Chekhov and his circle. Mikhail Chekhov's voice has the uniquely compelling ring of authenticity."--William Boyd, award-winning author of A Good Man in Africa, Restless, and the forthcoming Ordinary Thunderstorms
"As a writer himself, Mikhail Chekhov often found it hard to be the 'brother of his brother'…This unpretentious and warm-hearted eye-witness account is indispensable reading for anyone wishing to acquire a vivid picture of Chekhov's remarkable life as it unfolded."--Rosamund Bartlett, author of Chekhov: Scenes From a Life and translator of About Love and Other Stories and Chekhov: A Life in Letters
Advertisement