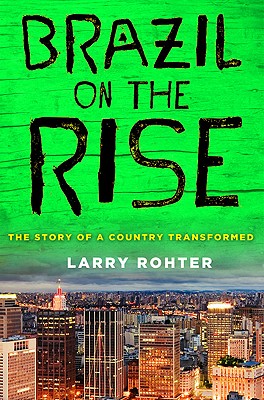 Brazil on the Rise: The Story of a Country Transformed (Hardcover)
The Story of a Country Transformed
Palgrave Macmillan, 9780230618879, 304pp.
Publication Date: August 31, 2010
* Individual store prices may vary.
or
Not Currently Available for Direct Purchase
Description
In this hugely praised narrative, New York Times reporter Larry Rohter takes the reader on a lively trip through Brazil's history, culture, and booming economy. Going beyond the popular stereotypes of samba, supermodels, and soccer, he shows us a stunning and varied landscape--from breathtaking tropical beaches to the lush and dangerous Amazon rainforest--and how a complex and vibrant people defy definition. He charts Brazil's amazing jump from a debtor nation to one of the world's fastest growing economies, unravels the myth of Brazil's sexually charged culture, and portrays in vivid color the underbelly of impoverished favelas. With Brazil leading the charge of the Latin American decade, this critically acclaimed history is the authoritative guide to understanding its meteoric rise.
About the Author
Larry Rohter served as a correspondent in Rio de Janeiro for fourteen years for "Newsweek" and later as "The New York Times" bureau chief. He is widely considered a top expert on Brazil. Currently he is a culture reporter for "The New York Times" and a commentator for Brazilian media. He lives in Hoboken, NJ.
Praise For Brazil on the Rise: The Story of a Country Transformed…
"Lively and hard-hitting…Rohter's very contemporary narrative of the past four decades of Brazilian history is peppered with supporting tales and interviews from his reporting…accessible to a first-time tourist but also balanced and analytical enough for any Brazilian…Critical and probing, Brazil on the Rise will largely leave the reader with an affectionate portrait of Brazilians."—The Christian Science Monitor
"For some time there has been a gap in the market for a good English book on Brazil. [Rohter] dusts off his old notebooks and finds stories that bring Brazil alive."—The Economist
"A powerful and well-informed argument about the state of Brazil's economy and why the country with its vast array of natural resources now seems poised to achieve the world power status that has long eluded it…the long-awaited future has arrived."—
The Associated Press
"A timely, readable study of Brazil's history and current prospects…Offers an evenhanded consideration of some of Brazil's most celebrated artifacts, including Carnaval, soccer and samba…With the recent granting of the 2016 Summer Olympics to Rio de Janeiro, Rohter's accomplished overview proves a solid brush-up."—
Kirkus Reviews
"[Rohter] successfully illuminates some of the more convoluted issues within Brazilian society. He not only addresses the stereotypical Brazilian topics of soccer, beaches, and the Amazon, but he also tackles such complex subjects as oil, race, and politics…Recommended."—Library Journal"Offers fascinating journalistic engagement with the personalities and stories of modern Brazil...Recommended."--
Choice
"No one delivers a more insightful and thoughtful look at Brazil than Larry Rohter. His grasp and deep knowledge of my country gives you a sense of its dynamic and vibrant culture as well as the rapid ascent of its economy and its transformation from dictatorship to democracy. Anyone wanting to understand Brazil's place in the world today must first read this book."--Paulo Coelho, author of The Alchemist
"It is not surprising that Larry Rohter, who has written with great insight on Brazil and South America for many years for The New York Times, has written a splendid and timely, indeed unrivaled, book on Brazil's meteoric economic success. It is a tour de force."--Jagdish Bhagwati, University Professor, Columbia University and author of In Defense of Globalization"No one is better equipped than Larry Rohter to weigh and measure Brazil's remarkable transformation of recent years. Rohter knew the country in less happy times - of military dictatorship and failed economy. Then, by good fortune, as The New York Times's long-time bureau chief in Rio de Janeiro, he was again in place to record, explain and analyze Brazil's much-awaited emergence as an economic power and a self-confident democracy. This book is essential reading both for those interested in Brazil and Latin America as such and those seeking to understand the fast-changing international landscape of the early 21st century in which Brazil is now an important new player." -- Alan Riding, author of Distant Neighbors: A Portrait of the Mexicans.  "Brazil is well on its way to becoming a great economic power, but it also is a country with a long and complex history. Larry Rohter knows the country inside out, loves it, and yet is able to bring an objective lens to help us understand where Brazil is coming from, the opportunities and challenges that it faces today, and its manifest destiny. A must-read."--Anil K. Gupta, co-author of Getting China and India Right
 
Advertisement