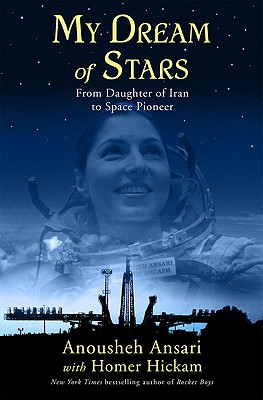 My Dream of Stars (Hardcover)
From Daughter of Iran to Space Pioneer
Palgrave MacMillan, 9780230619937, 234pp.
Publication Date: March 2, 2010
* Individual store prices may vary.
Description
In her heartwarming and empowering memoir, space pioneer Anousheh Ansari tells the story of her childhood in Iran and her family's exodus to America after the Islamic Revolution. After settling down in Texas, Anousheh built a computer technology firm from the ground up, which eventually realized a net worth of $750 million and ultimately allowed her to achieve her childhood dream of spaceflight. In her groundbreaking role as the first-ever female commercial spaceflight participant, her story became politicized and fraught with the prejudices and obstacles she had to overcome as an Iranian woman, culminating in a debate over whether she would be allowed to display both the American and Iranian flags on the sleeve of her spacesuit.
After her return to Earth, Anousheh started The Ansari Foundation, a quickly growing nonprofit which supports social entrepreneurship, and is especially committed to ensuring the freedom of women around the world and supporting female entrepreneurs. Ultimately, this evocative story shows the triumph of a woman who has become a role model to people around the globe struggling to overcome economic and cultural barriers, as well as those dreamers who look upon the stars and wish to soar among them.
About the Author
Anousheh Ansari was born in Mashhad, Iran and immigrated to America to eventually become the fourth-ever commercial spaceflight participant and the first Muslim woman to traverse the far reaches of outer space. She is also the founder of the multi-million dollar firm Telecom Technologies and of the Ahoora Foundation. She lives in Dallas, Texas. Homer Hickam is the acclaimed author of "Rocket Boys," which was adapted into the major theatrical release, "October Sky." He is the author of eight other books, including the 1989 military nonfiction bestseller "Torpedo Junction" and the "New York Times "bestseller "Back to the Moon." He lives in Huntsville, Alabama.
Praise For My Dream of Stars: From Daughter of Iran to Space Pioneer…
"From Iranian refugee to astronaut... This is an amazing biography, an inspiring true story of a woman with huge dreams and the courage of a lion.  Only in America...I loved this book, and you will too." -- Stephen Coonts, author of The Disciple, and fifteen New York Times bestselling books
                                                                             "In My Dream of Stars, Anousheh Ansari allows readers to experience the magic of space while sharing the triumphant story that brought her there. This is an awe-inspiring and heartwarming book." -- Buzz Aldrin, Astronaut, Apollo XI "As an entrepreneur myself, I can appreciate the significant challenges Anousheh Anasari  overcame to make her dreams a reality.  Her story is a testament to the power of conviction and to the understanding that through true commitment and unwavering focus, even the unimaginable is possible." -- Elon Musk, co-founder of PayPal, SpaceX and Tesla Motors "An astonishing and almost improbable but very human journey - one deftly captured in this book. "I saw a small crystal float away from me... a pretty little diamond... it was one of my tears... My beautiful planet, under the warm rays of the sun, turned gracefully beneath me. I was entranced." Wow - that is just a stunner. I had tears in my eyes reading that passage." - Keith Cowing, Editor, NASAWATCH Praise for Rocket Boys: "A thoroughly charming memoir ... [an] eloquent evocation of a lost time and place ... Mr. Hickam builds a story of overcoming obstacles worthy of Frank Capra, especially in its sweetness and honest sentimentality."—Christopher Lehmann-Haupt, The New York Times  "[Hickam] is a very adept storyteller ... It's a good bet this is the story as he told it to himself. It is a lovely one, and in the career of Homer H. Hickam, Jr., who prevailed over the facts of his life to become a NASA engineer training astronauts for space walks, that made all the difference."—The New York Times Book Review
Coverage from NPR
or
Not Currently Available for Direct Purchase