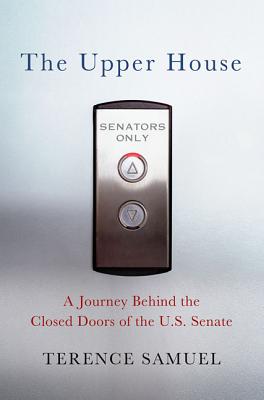 The Upper House: A Journey Behind the Closed Doors of the U.S. Senate (Hardcover)
A Journey Behind the Closed Doors of the U.S. Senate
Palgrave MacMillan, 9780230623613, 255pp.
Publication Date: May 25, 2010
* Individual store prices may vary.
or
Not Currently Available for Direct Purchase
Description
They come to Washington for varied and complex reasons driven perhaps by some deep emotional commitment to an issue, or believing that their time in Congress can make their dream of the presidency a reality. No matter what their motivation or particular route, freshmen have three traits in common: they will be members of one of the most powerful deliberative bodies on the planet; they will have far less leverage and influence than they might have imagined; and finally, none of them not even the most experienced political hand will have any idea exactly what will take to succeed as a United States Senator.
In "The Upper House," political analyst Terrence Samuel journeys inside the legislative arm of the government to discover what makes a modern senator. He gets to the heart of the Senate and follows the people Harry Reid, Jim Webb, Amy Klobuchar, Jon Tester, Chuck Schumer, Bob Corker and the institution through displays of dazzling power, bewildering helplessness, and sacred traditions both ancient and modern.
About the Author
Terence Samuel was the chief congressional correspondent for U.S. News & World Report from 2000 to 2005. Previously, he was a reporter and New York bureau chief at The Philadelphia Inquirer, a director of news programming at America Online and a political columnist for The American Prospect. Formerly, he was deputy editor of The Root, The Washington Post's online magazine of opinion and analysis aimed at African American readers. He is currently editor-at-large at The Root and senior correspondent for The American Prospect.He has appeared on PBS's Washington Week, CNN, CNN International, MSNBC and Fox News, as well as on international media outlets BBC and the Canadian Broadcasting Corporation. He lives in Washington, D.C.
Praise For The Upper House: A Journey Behind the Closed Doors of the U.S. Senate…
"Samuel has produced a concise, engaging and readable take on the subject…eminently worthwhile."—The Washington Times
"The U.S. Senate today has become a pressure-cooker, a place of combat, hardball politics and raw ambition. The Upper House pulls back the curtain and shows it all: the brawling, the deal-making, and sometimes even the hilarity, of the U.S. Senate in action. With rare access, Terence Samuel presents a dramatic and intense look at life in the august halls of power as it really is and what it really means, for better or worse, for our democracy."—Roger Simon, author of Divided We Stand
"Veteran D.C. journalist Terence Samuel deftly guides us through the hallways and back rooms of one of Washington's most peculiar centers of power: the U.S. Senate. With a gripping narrative focusing on the ongoing political wars, Samuel shows how America's top lawmakers—a curious collection of egos and oddballs—make the sausage, or, too often, don't. This ain't the Senate you read about in civics class."—David Corn, author of The Lies of George W. Bush
"Terence Samuel's fascinating book provides an engaging and lively look at the troubled institution of the Senate over the past decade. His thoughtful narrative, based on perceptive sketches of several senators, shows why the institution has become mired in a chronic crisis. Readers will be grateful to Samuel for his informed guidance about the causes of the Senate's current malaise."—Lewis L. Gould, author of The Modern American Presidency and Grand Old Party
"Terence Samuel opens a window, one that is usually slammed tight, on the United States Senate's bizarre customs and folkways, and he shows us these usually carefully scripted and packaged people in a candid light. A highly edifying and important book."—Michael Tomasky, author of Hillary's Turn
Coverage from NPR
Advertisement