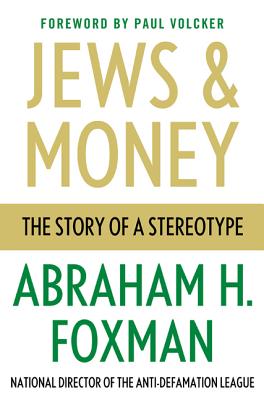 Jews and Money
The Story of a Stereotype
Hardcover

* Individual store prices may vary.
Other Editions of This Title:
Paperback (3/13/2012)
Description
In the wake of Bernie Madoff's ruinous investment schemes, Abe Foxman takes a cultural and political look at the many variations throughout history of the assumptions made about Jews and money. These include Jews as greedy global capitalists; Jews as wealthy secret communists; Jews as cheapskates; and Jews controlling the media with their money to unduly influence society. Foxman makes the case that these stereotypes have permeated cultures globally and argues that these beliefs are rooted in deep-seated and pervasive anti-Semitism. As with all forms of bigotry, society at large needs to respond to the persistence of stereotypes by educating the young, denouncing hate speech, and by encouraging Jews, like all groups, to express pride in their ethnic and religious heritage.
Praise For Jews and Money: The Story of a Stereotype…
"Lucid and authoritative" --Publisher's Weekly "Foxman made a genuine contribution and a worthy attempt to speak truth to nonsense..." --The Jerusalem Post "Indefatigable Anti-Defamation League director Foxman applies common sense against entrenched hatred, challenging patent bigotry with plain truths about Jews and money... A gentlemanly exhortation to communicate and get involved in the fight against an ancient evil. " -- Kirkus Reviews "Abe Foxman has written with significant insight on a stereotype that should be eradicated. His perspective clears a path towards enlightenment and is fascinating. A must-read."– Donald J. Trump"Foxman's book serves as an important wake-up call– alerting readers to continuing prejudice and stereotyping of Jews, both positively and negatively, which swirls around the mainstream of American culture.   "Jews and Money" takes readers through an easy to digest and informative journey, documenting the origins and growth of bias and bigotry against Jews from birth of Christianity through current times, focusing on the subtle as well as blatant forms of prejudice today, and the role of the media and the internet." -- Andrew Tisch, Co-Chairman, Loews Corporation "This book captures the historic complexity that remarkably remains an issue of keen sensitivity even today.  The words "Jews and money" have an ugly resonance that most of us can't forget.  Even for a subject that has been deeply explored, this book offers many new and worthwhile insights." – Michael Steinhardt, Chairman of the Board of Israel Energy Initiatives Ltd, IDT Corporation "Timely, sensible, and highly readable, this volume explodes popular myths concerning Jews and money, and reminds us that stereotypes matter and anti-Semitism remains a problem.  Full of common sense ideas for how to make our world 'a more tolerant, open-minded, and freedom-loving place.'"-- Jonathan D. Sarna, Joseph H. & Belle R. Braun Professor of American Jewish History at Brandeis University and author of American Judaism: A History "Abe Foxman looks at some long-standing stereotypes about Jewish people that have no place in the business world, or any world for that matter.  He provides important information that will educate others, combat bigotry, and promote religious and economic freedom." – Rupert Murdoch, Chairman & CEO, News Corporation
Palgrave MacMillan, 9780230623859, 256pp.
Publication Date: November 9, 2010
About the Author
Abraham H. Foxman is the national director of the Anti-Defamation League (ADL) and one of today's preeminent voices against hatred, discrimination, and violence in the United States and worldwide. Born in Poland in 1940, he survived the Holocaust when his parents entrusted him to their Catholic nursemaid, who baptized him and raised him as her own son. Foxman has been with the ADL for more than thirty-five years, and for nearly half of them has served as the national director. He is the author of The Deadliest Lies: The Israel Lobby and the Myth of Jewish Control and Never Again?: The Threat of the New Anti-Semitism. Foxman has been awarded several honors including the Interfaith Committee of Remembrance Lifetime Achievement Award, the Raoul Wallenberg Humanitarian Leadership Award from the Center for Holocaust and Genocide Studies, and, in 2006, the Knight of the Legion of Honor, France's highest civilian honor. He lives in New York.
or
Not Currently Available for Direct Purchase