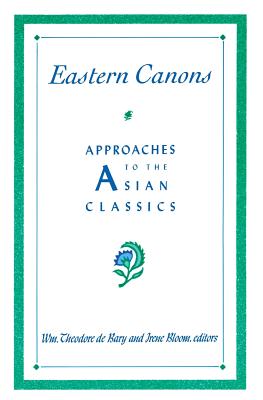 Eastern Canons (Paperback)
Approaches to the Asian Classics (Companions to Asian Studies)
Columbia University Press, 9780231070058, 395pp.
Publication Date: May 18, 1995
* Individual store prices may vary.
Description
The essays gathered here, in addition to those by editors Wm. Theodore de Bary and Irene Bloob, are written by leading scholars of Asian cultures--among them Donald Keene, Peter Awn, Barbara Stoler Miller, Ainslie Embree, Burton Watson, C.T. Hsia, Paul Anderer, and others. They introduce classics from the Islamic, Indian, Chinese, and Japanese traditions, providing entree to texts which have emerged as monuments of Asian thought and literature. Among the works discussed are the Qu'ran, the philosophy of history of Ibn Khaldun, the Upanishads, the epic Mahabarata, the philosopher Mencius, the Lotus Sutra, T'and Poetry, the Tale of Genji, and the poet Basho.
About the Author
Wm. Theodore de Bary (1919-2017) was John Mitchell Mason Professor Emeritus and provost emeritus of Columbia University. His many books include Waiting for the Dawn, Message of the Mind, and Learning for One's Self, as well as Sources of Japanese Tradition and Sources of Korean Tradition, all published by Columbia University Press. Irene Bloom (1939-2010) was Wm. Theodore and Fanny de Bary and Class of 1941 Associate Professor of Asian Humanities at Columbia University and Anne Whitney Olin Professor Emerita in the Department of Asian and Middle Eastern Cultures at Barnard College. She edited and translated Knowledge Painfully Acquired: The K'un-chih chi of Lo Ch'in-shun and coedited, with Joshua A. Fogel, Meeting of Minds: Intellectual and Religious Interaction in East Asian Traditions of Thought.