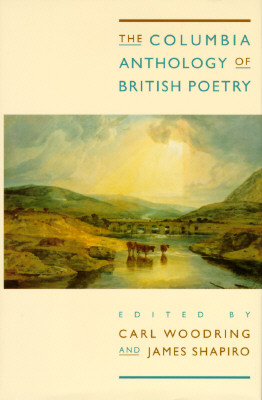 The Columbia Anthology of British Poetry (Hardcover)
Columbia University Press, 9780231101806, 891pp.
Publication Date: December 7, 1995
* Individual store prices may vary.
Description
A sweeping compendium of British verse from Old and Middle English to the present, including the best work of poets from every corner of the British Isles, The Columbia Anthology of British Poetry offers the most up-to-date and comprehensive single volume available. Carl Woodring and James Shapiro, the same experienced editorial team who brought students and lovers of literature The Columbia History of British Literature, now present a volume that resonates with contemporary significance, yet also takes into account the centuries-old poetic tradition that planted Great Britain centrally in the canon of Western Literature. The Columbia Anthology pays tribute to the renowned works that any include--Chaucer, Spenser, Shakespeare, Milton, Blake, Eliot, Auden. But the book also resurrects the voices of excellent poets, particularly women--such as Queen Elizabeth I, Anne Ingram, and Christina Rossetti--who have been unjustifiably ignored until recently. Contemporary British poetry is fully represented as well, with the work of Thom Gunn, Seamus Heaney, Liz Lochhead, and Paula Meehan bringing The Columbia Anthology up to the minute. Unencumbered by extensive notes that divert attention from the spirit of verse, The Columbia Anthology of British Poetry allows readers to discover the poems for themselves. It is a collection poetry lovers will want on their shelves for years to come, to read and enjoy again and again.
About the Author
Carl Woodring is George Edward Woodberry Professor of Literature Emeritus at Columbia University. The coeditor of The Columbia History of British Poetry (Columbia, 1993), he is also the author of such works as Nature into Art and Politics in English Romantic Poetry which won the Gauss Award.James Shapiro is Associate Professor of English and Comparative Literature and Associate Chair of the English and Comparative Literature Department at Columbia University. He is the author of Rival Playwrights: Marlowe, Jonson, Shakespeare and co-editor of The Columbia History of British Poetry (1993) and Shakespeare and the Jews (Columbia, 1995).