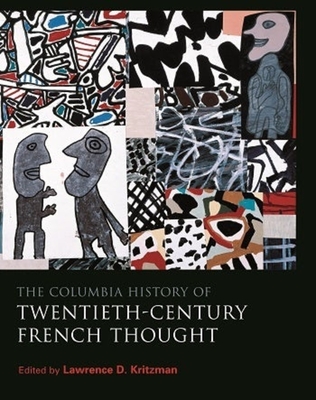 The Columbia History of Twentieth-Century French Thought
Paperback

* Individual store prices may vary.
Other Editions of This Title:
Hardcover (2/1/2006)
Description
With more than two hundred entries by leading intellectuals in the French- and English-speaking world, this new volume presents the authoritative guide to twentieth-century French thought. Unrivaled in its scope and depth, The Columbia History of Twentieth-Century French Thought covers and critiques the intellectual figures, movements, and publications that helped shape and define fields as diverse as history and historiography, psychoanalysis, film, literary theory, cognitive and life sciences, literary criticism, philosophy, and economics. The contributors also discuss developments in French thought on such subjects as pacifism, fashion, gastronomy, technology, and urbanism. More than just a reference volume, The Columbia History of Twentieth-Century French Thought offers original and imaginative explorations of a variety of topics. Contributors include prominent French thinkers, many of whom have played an integral role in the development of French thought, and American, British, and Canadian scholars who have been vital in the dissemination of French ideas. The book brings together such pairings as Etienne Balibar on Althusser; Jean Baudrillard on the futures of theory; Judith Butler on Hegel in France; R gis Debray on mediology; Julia Kristeva on Proust; Michael Morange on the life sciences; Paul Ricoeur on ethics; Elisabeth Roudinesco on psychoanalysis; and Roger Shattuck on humanisms. The book is divided into four parts: Movements and Currents (including all the major schools of thought, such as the Annales, deconstruction, Gaullism, n gritude, the New Right, psychoanalysis, and structuralism); Themes (ideas that helped define intellectual work in the twentieth century, such as anti-Semitism, the avant-garde, everyday life, film theory, and nationalism); Intellectuals (including critical accounts of the lives and work of such figures as Aron, Barthes, de Beauvoir, Deleuze, Derrida, Foucault, Irigaray, Kristeva, Levinas, and Proust); and Dissemination (covering influential journals, television shows, radio programs, and newspapers).
Columbia University Press, 9780231107907, 816pp.
Publication Date: August 17, 2007
About the Author
Lawrence D. Kritzman is the Pat and John Rosenwald Research Professor in the Arts and Sciences and professor of French and comparative literature at Dartmouth College. He is the author of The Rhetoric of Sexuality and the Literature of the French Renaissance and Columbia's forthcoming The Fabulous Imagination: On Montaigne's Essays. He is also the editor of the European Perspectives Series, published by Columbia University Press, and has written extensively on French intellectual thought, literature and psychoanalysis, as well as literary self-portraiture.