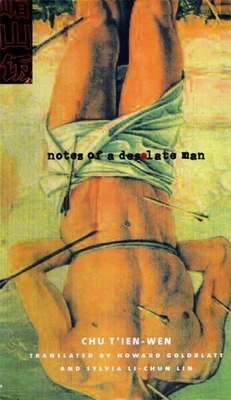 Notes of a Desolate Man (Hardcover)
Columbia University Press, 9780231116084, 184pp.
Publication Date: May 6, 1999
* Individual store prices may vary.
or
Not Currently Available for Direct Purchase
Description
Winner of the coveted China Times Novel Prize, this postmodern, first-person tale of a contemporary Taiwanese gay man reflecting on his life, loves, and intellectual influences is among the most important recent novels in Taiwan. The narrator, Xiao Shao, recollects a series of friends and lovers, as he watches his childhood friend, Ah Yao, succumb to complications from AIDS. The brute fact of Ah Yao's death focuses Shao's simultaneously erudite and erotic reflections magnetically on the core theme of mortality. By turns humorous and despondent, the narrator struggles to come to terms with Ah Yao's risky lifestyle, radical political activism, and eventual death; the fragility of romantic love; the awesome power of eros; the solace of writing; the cold ennui of a younger generation enthralled only by video games; and life on the edge of mainstream Taiwanese society. His feverish journey through forests of metaphor and allusion--from Fellini and Levi-Strauss to classical Chinese poetry--serves as a litany protecting him from the ravages of time and finitude. Impressive in scope and detail, Notes of a Desolate Man employs the motif of its characters' marginalized sexuality to highlight Taiwan's vivid and fragile existence on the periphery of mainland China. Howard Goldblatt and Sylvia Li-chun Lin's masterful translation brings Chu T'ien-wen's lyrical and inventive pastiche of political, poetic, and sexual desire to the English-speaking world.
About the Author
Chu T'ien-Wen has published fifteen books--novels, stories, memoirs, and film scripts--and has won five major literary prizes. She also received the best script award at both the Venice and Tokyo film festivals. Her most highly acclaimed works are Fin de Siecle Splendor and Notes of a Desolate Man, which was published in Taiwan in 1994. Howard Goldblatt is professor of Chinese literature at the University of Colorado, Boulder, and translator of many books, most recently Mo Yan's Red Sorghum and Silver City by Li Rui. He is also the coeditor, with Joseph Lau, of The Columbia Anthology of Modern Chinese Literature.Sylvia Li-chun Lin, who teaches at the University of Colorado, Boulder, writes on modern Chinese literature and culture.
Advertisement