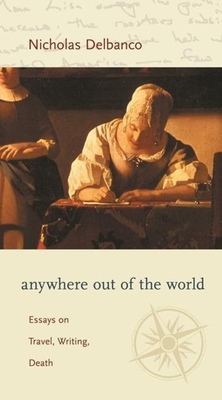 Anywhere Out of the World
Essays on Travel, Writing, Death
Hardcover

* Individual store prices may vary.
Description
Nicholas Delbanco--who, John Updike says, "wrestles with the abundance of his gifts as a novelist the way other men wrestle with their deficiencies"--ventures forth to discover and illuminate various writers and places. In this follow-up to his acclaimed The Lost Suitcase, Delbanco weaves varied reflections to reveal a singular understanding of the relationships among literature, the past, and the world around us. Describing trips to such diverse destinations as Namibia; Afghanistan; Bellagio, Italy; and the Bellagio in Las Vegas, Delbanco conveys the wonder and the apprehension of visiting new places. However, he goes beyond commonplace travelogues, examining our desire to travel and to write and read about distant lands. In the title essay, which surveys the state of travel and travel writing in a world that has grown smaller and less strange, he explores the continuing allure of new locales and the ways in which familiar places change in our imagination over time. Delbanco's reflections on literature look to past writers and literary traditions as a way of enriching the present. Delbanco begins by asking us to reconsider society's infatuation with novelty and proposes the paradoxical notion of imitation as a source of originality. Remembering his friendships with two colorful departed figures, John Gardner and James Baldwin, and celebrating the now somewhat--and regrettably--neglected works of John Fowles and Ford Madox Ford, he pays tribute to these writers' generosity of spirit and commitment to literature. In "Strange Type," Delbanco explores his own recent brush with death. Here too, he draws on a range of subjects and reflections, describing his recovery from heart problems via a poem by Malcolm Lowry, the surprising persistence of typos despite advances in word-processing technology, and Ernest Hemingway as literary celebrity.
Columbia University Press, 9780231133845, 208pp.
Publication Date: March 2, 2005
About the Author
Nicholas Delbanco is the author of more than twenty books of fiction and nonfiction, including The Vagabonds, What Remains, Old Scores, The Countess of Stanlein Restored, Running in Place: Scenes from the South of France, and The Lost Suitcase: Reflections on the Literary Life. A founding director of the Bennington Writing Workshops, he is Robert Frost Collegiate Professor at the University of Michigan, where he directs the Hopwood Awards Program and teaches writing.