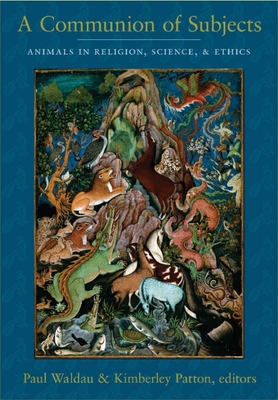 A Communion of Subjects (Paperback)
Animals in Religion, Science, and Ethics
Columbia University Press, 9780231136433, 686pp.
Publication Date: April 1, 2009
Other Editions of This Title:
Hardcover (10/1/2006)
* Individual store prices may vary.
Description
A Communion of Subjects is the first comparative and interdisciplinary study of the conceptualization of animals in world religions. Scholars from a wide range of disciplines, including Thomas Berry (cultural history), Wendy Doniger (study of myth), Elizabeth Lawrence (veterinary medicine, ritual studies), Marc Bekoff (cognitive ethology), Marc Hauser (behavioral science), Steven Wise (animals and law), Peter Singer (animals and ethics), and Jane Goodall (primatology) consider how major religious traditions have incorporated animals into their belief systems, myths, rituals, and art. Their findings offer profound insights into humans' relationships with animals and a deeper understanding of the social and ecological web in which we all live. Contributors examine Judaism, Christianity, Islam, Hinduism, Buddhism, Jainism, Daoism, Confucianism, African religions, traditions from ancient Egypt and early China, and Native American, indigenous Tibetan, and Australian Aboriginal traditions, among others. They explore issues such as animal consciousness, suffering, sacrifice, and stewardship in innovative methodological ways. They also address contemporary challenges relating to law, biotechnology, social justice, and the environment. By grappling with the nature and ideological features of various religious views, the contributors cast religious teachings and practices in a new light. They reveal how we either intentionally or inadvertently marginalize "others," whether they are human or otherwise, reflecting on the ways in which we assign value to living beings. Though it is an ancient concern, the topic of "Religion and Animals" has yet to be systematically studied by modern scholars. This groundbreaking collection takes the first steps toward a meaningful analysis.
About the Author
Kimberley C. Patton (PhD, Religion, Harvard) is Professor of the Comparative and Historical Study of Religion at Harvard Divinity School. She is the author of Religion of the Gods: Ritual, Paradox, and Reflexivity (Oxford, 2009), which and won the 2010 American Academy of Religion Book Award for Excellence in Religious Studies in the Analytical-Descriptive category, and The Sea Can Wash Away All Evils: Modern Marine Pollution and the Ancient Cathartic Ocean (Columbia, 2006) and the editor of (with Benjamin Ray) A Magic Still Dwells: Comparative Religion in the Postmodern Age (California, 2000), (with John Stratton Hawley) Holy Tears: Weeping in the Religious Imagination (Princeton, 2005), and (with Paul Waldau) A Communion of Subjects: Animals in Religion, Science, and Ethics (Columbia, 2006).