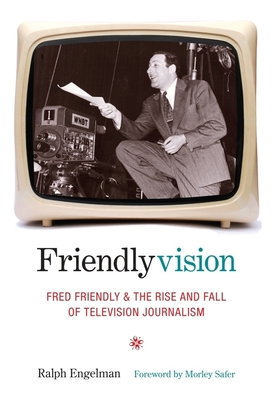 Friendlyvision: Fred Friendly and the Rise and Fall of Television Journalism (Hardcover)
Fred Friendly and the Rise and Fall of Television Journalism
Columbia University Press, 9780231136907, 424pp.
Publication Date: April 1, 2009
* Individual store prices may vary.
or
Not Currently Available for Direct Purchase
Description
Fred Friendly (1915-1998) was the single most important personality in news and public affairs programming during the first four decades of American television. Portrayed by George Clooney in the film Good Night and Good Luck, Friendly, together with Edward R. Murrow, invented the television documentary format and subsequently oversaw the birth of public television. Juggling the roles of producer, policy maker, and teacher, Friendly had an unprecedented impact on the development of CBS in its heyday, wielded extensive influence at the Ford Foundation under the presidency of McGeorge Bundy, and trained a generation of journalists at Columbia University during a tumultuous period of student revolt. Ralph Engelman's biography is the first comprehensive account of Friendly's life and work. Known as a "brilliant monster," Friendly stood at the center of television's unique response to McCarthyism, Watergate, and the Vietnam War, and the pitched battles he fought continue to resonate in the troubled world of television news. Engelman's fascinating psychological portrait explores the sources of Friendly's legendary rage and his extraordinary achievement. Drawing on private papers and interviews with colleagues, family members, and friends, Friendlyvision is the definitive story of broadcast journalism's infamous "wild man," providing a crucial perspective on the past and future character of American journalism.
About the Author
Ralph Engelman chairs the Journalism Department at the Brooklyn Campus of Long Island University. A member of the jury of the George Polk Awards and the coordinator of the annual George Polk Awards Seminar, he is the author of Public Radio and Television in America: A Political History.
Advertisement