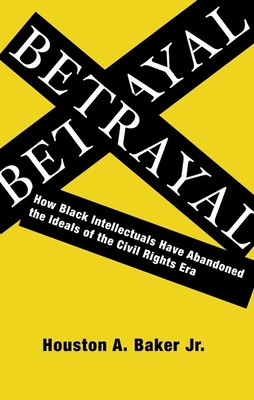 Betrayal (Paperback)
How Black Intellectuals Have Abandoned the Ideals of the Civil Rights Era
Columbia University Press, 9780231139656, 242pp.
Publication Date: April 1, 2010
Other Editions of This Title:
Hardcover (3/3/2008)
* Individual store prices may vary.
Description
Houston A. Baker Jr. condemns those black intellectuals who, he believes, have turned their backs on the tradition of racial activism in America. These individuals choose personal gain over the interests of the black majority, whether they are espousing neoconservative positions that distort the contours of contemporary social and political dynamics or abandoning race as an important issue in the study of American literature and culture. Most important, they do a disservice to the legacy of W. E. B. Du Bois, Martin Luther King Jr., and others who have fought for black rights. In the literature, speeches, and academic and public behavior of some black intellectuals in the past quarter century, Baker identifies a "hungry generation" eager for power, respect, and money. Baker critiques his own impoverished childhood in the "Little Africa" section of Louisville, Kentucky, to understand the shaping of this new public figure. He also revisits classical sites of African American literary and historical criticism and critique. Baker devotes chapters to the writing and thought of such black academic superstars as Cornel West, Michael Eric Dyson, and Henry Louis Gates Jr.; Hoover Institution senior fellow Shelby Steele; Yale law professor Stephen Carter; and Manhattan Institute fellow John McWhorter. His provocative investigation into their disingenuous posturing exposes what Baker deems a tragic betrayal of King's legacy. Baker concludes with a discussion of American myth and the role of the U.S. prison-industrial complex in the "disappearing" of blacks. Baker claims King would have criticized these black intellectuals for not persistently raising their voices against a private prison system that incarcerates so many men and women of color. To remedy this situation, Baker urges black intellectuals to forge both sacred and secular connections with local communities and rededicate themselves to social responsibility. As he sees it, the mission of the black intellectual today is not to do great things but to do specific, racially based work that is in the interest of the black majority.
About the Author
Houston A. Baker Jr. is Distinguished University Professor at Vanderbilt University. He is the author of I Don't Hate the South: Reflections on Faulkner, Family, and the South; Turning South Again: Re-thinking Modernism/Re-reading Booker T.; Black Studies, Rap, and the Academy; Blues, Ideology, and Afro-American Literature: A Vernacular Theory, and a number of other studies of African American literature and culture. He is a published poet whose most recent volume is Passing Over.
or
Not Currently Available for Direct Purchase