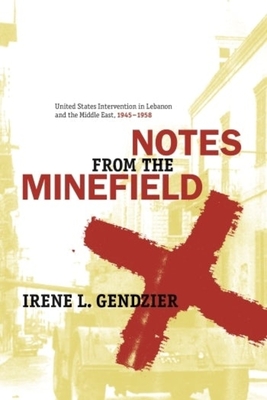 Notes from the Minefield
United States Intervention in Lebanon, 1945-1958 (History and Society of the Modern Middle East)
Paperback

* Individual store prices may vary.
Other Editions of This Title:
Hardcover (3/28/2019)
Paperback (9/30/2020)
Description
Irene Gendzier's critically acclaimed, wide-reaching analysis of post-World War II U.S. policy in Lebanon posits that the politics of oil and pipelines figured far more significantly in U.S. relations with Lebanon than previously believed. In 1958 the United States sent thousands of troops to shore up the Lebanese regime in the face of domestic opposition and civil war. The justification was preventing a coup in Iraq, but recently declassified documents show that the true objective was to protect America's commercial, political, and strategic interests in Beirut and the Middle East. By reevaluating U.S.-Lebanese relations within the context of America's collaborative intervention with the Lebanese ruling elite, Gendzier aptly demonstrates how oil, power, and politics drove U.S. policy and influenced the development of the state and the region. In her new preface, Gendzier discusses the U.S. invasion of Iraq in 2003 and the remarkable continuity of U.S. foreign policy from 1945 to the present.
Columbia University Press, 9780231140119, 470pp.
Publication Date: October 1, 2006
About the Author
Irene L. Gendzier is professor of political science at Boston University and author of Development Against Democracy: Manipulating Political Change in the Third World.