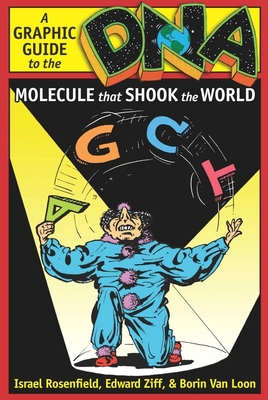 Dna
A Graphic Guide to the Molecule That Shook the World
Paperback

* Individual store prices may vary.
Other Editions of This Title:
Hardcover (1/7/2011)
Description
With humor, depth, and philosophical and historical insight, DNA reaches out to a wide range of readers with its graphic portrayal of a complicated science. Suitable for use in and out of the classroom, this volume covers DNA's many marvels, from its original discovery in 1869 to early-twentieth-century debates on the mechanisms of inheritance and the deeper nature of life's evolution and variety.
Even readers who lack a background in science and philosophy will learn a tremendous amount from this engaging narrative. The book elucidates DNA's relationship to health and the cause and cure of disease. It also covers the creation of new life forms, nanomachines, and perspectives on crime detection, and considers the philosophical sources of classical Darwinian theory and recent, radical changes in the understanding of evolution itself. Already these developments have profoundly affected our notions about living things. Borin Van Loon's humorous illustrations recount the contributions of Gregor Mendel, Frederick Griffith, James Watson, and Francis Crick, among other biologists, scientists, and researchers, and vividly depict the modern controversies surrounding the Human Genome Project and cloning.
Columbia University Press, 9780231142717, 272pp.
Publication Date: January 7, 2011
About the Author
Israel Rosenfield received an M.D. from the New York University School of Medicine and a Ph.D. from Princeton University. He is a professor at the City University of New York and his books, which have been translated into a number of languages, include The Invention of Memory: A New View of the Brain; The Strange, Familiar, and Forgotten: An Anatomy of Consciousness (revised and expanded French edition, 2005); and the satirical novel Freud's 'Megalomania', a New York Times notable book of the year. He has been a Guggenheim Fellow and a longtime contributor to The New York Review of Books. A frequent speaker at international art/science events, he has written essays and satirical pieces for a number of exhibition catalogues of contemporary artists. Edward Ziff studied Chemistry at Columbia University and received his PhD in Biochemistry at Princeton University. He then joined the laboratory of DNA sequencing pioneer Fred Sanger in Cambridge, where Ziff helped to develop the first DNA sequencing techniques. He has worked on problems of animal virus gene control at the London Imperial Cancer Research Fund Laboratories and transcriptional regulation in animal cells at the Rockefeller University in New York. Ziff has also been a Howard Hughes Medical Institute Investigator and his research includes many "firsts" in the areas of gene structure and control, cancer biology, and, more recently, brain function. He is professor of biochemistry and neural science at the New York University School of Medicine. Borin Van Loon has been a freelance illustrator since 1977. He has designed and illustrated fifteen documentary comic books on subjects from Darwin to Psychotherapy and Buddha to Statistics. He created an eclectic collage/cartoon mural on the subject of DNA and genetics for the Health Matters Gallery in London's Science Museum.