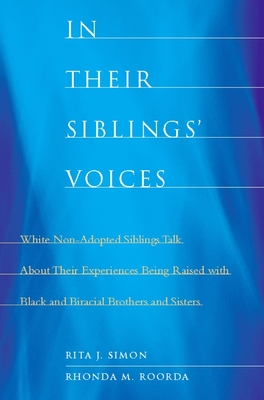 In Their Siblings' Voices (Paperback)
White Non-Adopted Siblings Talk about Their Experiences Being Raised with Black and Biracial Brothers and Sisters
Columbia University Press, 9780231148511, 229pp.
Publication Date: May 20, 2009
Other Editions of This Title:
Hardcover (5/20/2009)
* Individual store prices may vary.
Description
In Their Siblings' Voices shares the stories of twenty white non-adopted siblings who grew up with black or biracial brothers and sisters in the late 1960s and 1970s. Belonging to the same families profiled in Rita J. Simon and Rhonda M. Roorda's In Their Own Voices: Transracial Adoptees Tell Their Stories and In Their Parents' Voices: Reflections on Raising Transracial Adoptees, these siblings offer their perspectives on the multiracial adoption experience, which, for them, played out against the backdrop of two tumultuous, politically charged decades. Simon and Roorda question whether professionals and adoption agencies adequately trained these children in the challenges presented by blended families, and they ask if, after more than thirty years, race still matters. Few books cover both the academic and the human dimensions of this issue. In Their Siblings' Voices helps readers fully grasp the dynamic of living in a multiracial household and its effect on friends, school, and community.
About the Author
The late Rita J. Simon was a University Professor in the School of Public Affairs and the Washington College of Law at American University in Washington, D.C. She published forty-three books, edited nineteen, and was the editor of Gender Issues. Rhonda M. Roorda was adopted into a white family and raised in the Washington, D.C., metropolitan area. Roorda is the recipient of the 2010 Judge John P. Steketee Adoption Hero Award from the Adoptive Family Support Network (MI). In 2017, Rhonda was awarded the Friend of Children and Youth Award from the North American Council on Adoptable Children (NACAC). The author of a chapter in the Handbook of Adoption: Implications for Researchers, Practitioners, and Families, she currently works at an educational advocacy organization in Lansing, Michigan.