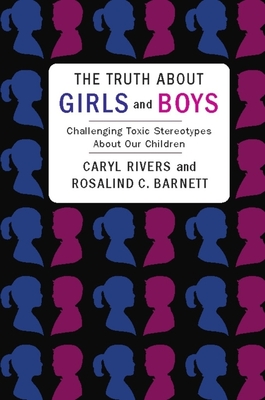 The Truth about Girls and Boys
Challenging Toxic Stereotypes about Our Children
Hardcover

* Individual store prices may vary.
Other Editions of This Title:
Paperback (4/23/2013)
Description
Caryl Rivers and Rosalind C. Barnett are widely acclaimed for their analyses of women, men, and society. In The Truth About Girls and Boys, they tackle a new, troubling trend in the theorizing of gender: that the learning styles, brain development, motivation, cognitive and spatial abilities, and "natural" inclinations of girls and boys are so fundamentally different, they require unique styles of parenting and education.
Ignoring the science that challenges these claims, those who promote such theories make millions while frightening parents and educators into enforcing old stereotypes and reviving unhealthy attitudes in the classroom. Rivers and Barnett unmake the pseudoscientific rationale for this argument, stressing the individuality of each child and the specialness of his or her talents and desires. They recognize that in our culture, girls and boys encounter different stimuli and experiences, yet encouraging children to venture outside their comfort zones helps them realize a multifaceted character. Educating parents, teachers, and general readers in the true nature of the gender game, Rivers and Barnett enable future generations to transform if not transcend the parameters of sexual difference.
Columbia University Press, 9780231151627, 240pp.
Publication Date: September 27, 2011
About the Author
Caryl Rivers is professor of journalism at the College of Communication at Boston University. A nationally known author and journalist, she was awarded the Helen Thomas Lifetime Achievement Award for distinguished work in journalism from the Society of Professional Journalists. Her articles have appeared in the The New York Times Magazine, The Nation, Saturday Review, Ms., Mother Jones, McCall's, Glamour, Redbook, Rolling Stone, and Ladies' Home Journal. She writes for the Washington Post, Los Angeles Times, Boston Globe, and Chicago Tribune and is the author of Selling Anxiety: How the News Media Scare Women, among other works of fiction and nonfiction. Rosalind C. Barnett is a senior scientist at the Women's Studies Research Center at Brandeis University. Her pioneering research on workplace issues and family life in America has been sponsored by major federal grants, and she is often invited to lecture at major venues in the United States and abroad. Dr. Barnett has a private clinical practice and is the author of scholarly and popular books and articles appearing in Self, Working Woman, McCall's, Ladies' Home Journal, The New York Times Magazine, and Working Woman. She is the recipient of the Radcliffe College Graduate Society's Distinguished Achievement Medal, the Life Time Legacy Award from the Families and Work Institute, and the Anne Roe Award from the Harvard University Graduate School of Education for her contribution to women's professional growth and the field of education. Both Barnett and Rivers received an honorable mention in the 2011 Casey Medals for Meritorious Journalism for their work in this field.