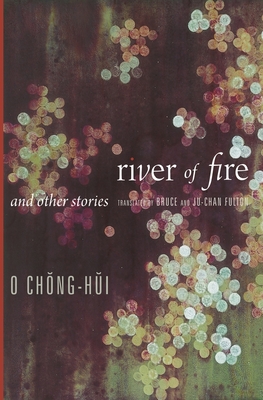 River of Fire and Other Stories (Weatherhead Books on Asia)
Hardcover

* Individual store prices may vary.
Other Editions of This Title:
Paperback (8/15/2016)
Description
O Chonghui crafts historically-rooted yet timeless tales imagining core human experiences from a female point of view. Since her debut in 1968, she has formed a powerful challenge to the patriarchal literary establishment in Korea, and her work has invited rich comparisons with the achievements of Joyce Carol Oates, Alice Munro, and Virginia Woolf. These nine stories range from O Chonghui's first published work, in 1968, to one of her last publications, in 1994. Her early stories are compact, often chilling accounts of family dysfunction, reflecting the decline of traditional, agrarian economics and the rise of urban, industrial living. Later stories are more expansive, weaving eloquent, occasionally wistful reflections on lost love and tradition together with provocative explorations of sexuality and gender. O Chonghui makes use of flashbacks, interior monologues, and stream-of-consciousness in her narratives, developing themes of abandonment and loneliness in a carefully cultivated, dispassionate tone. O Chonghui's narrators stand in for the average individual, struggling to cope with emotional rootlessness and a yearning for permanence in family and society. Arguably the first female Korean fiction writer to follow Woolf's dictum to do away with the egoless, self-sacrificing "angel in the house," O Chonghui is a crucial figure in the history of modern Korean literature, one of the most astute observers of Korean society and the place of tradition within it.
Columbia University Press, 9780231160667, 232pp.
Publication Date: July 10, 2012
About the Author
O Chonghui (b. 1947) burst onto the Korean literary scene with her story "The Toyshop Woman" (Wangujom yoin), which in 1968 won an annual new writers' competition sponsored by the Chungang ilbo, a Seoul daily. She has since published four dozen short stories and novellas. Among her story collections are The Garden of My Childhood and Spirit on the Wind, which contain the critically acclaimed stories "Evening Game" (Chonyok ui keim), "Chinatown" (Chunggugin kori), "Words of Farewell" (Pyolsa), "The Bronze Mirror" (Tonggyong), and "Wayfarer" (Sullyeja ui norae). Bruce and Ju-Chan Fulton are translators of numerous volumes of modern Korean fiction. They have received several awards and fellowships, including a National Endowment for the Arts Translation Fellowship (the first ever awarded for a translation from the Korean) and a residency with author Ch'oe Yun at the Banff International Literary Translation Centre (the first ever awarded for a translation from any Asian language).