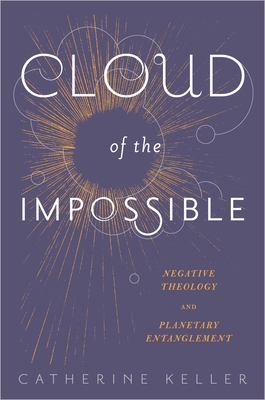 Cloud of the Impossible
Negative Theology and Planetary Entanglement (Insurrections: Critical Studies in Religion)
Paperback

* Individual store prices may vary.
Other Editions of This Title:
Hardcover (12/16/2014)
Description
The experience of the impossible churns up in our epoch whenever a collective dream turns to trauma: politically, sexually, economically, and with a certain ultimacy, ecologically. Out of an ancient theological lineage, the figure of the cloud comes to convey possibility in the face of the impossible. An old mystical nonknowing of God now hosts a current knowledge of uncertainty, of indeterminate and interdependent outcomes, possibly catastrophic. Yet the connectivity and collectivity of social movements, of the fragile, unlikely webs of an alternative notion of existence, keep materializing--a haunting hope, densely entangled, suggesting a more convivial, relational world.
Catherine Keller brings process, feminist, and ecopolitical theologies into transdisciplinary conversation with continental philosophy, the quantum entanglements of a "participatory universe," and the writings of Nicholas of Cusa, Walt Whitman, A. N. Whitehead, Gilles Deleuze, and Judith Butler, to develop a "theopoetics of nonseparable difference." Global movements, personal embroilments, religious diversity, the inextricable relations of humans and nonhumans--these phenomena, in their unsettling togetherness, are exceeding our capacity to know and manage. By staging a series of encounters between the nonseparable and the nonknowable, Keller shows what can be born from our cloudiest entanglement.
Columbia University Press, 9780231171151, 408pp.
Publication Date: December 16, 2014
About the Author
Catherine Keller is professor of constructive theology at Drew University. Her work interweaves process relationalism and poststructuralist philosophy with an evolving feminist cosmopolitics. At once constructive and deconstructive in approach, it engages questions of ecological, social, and spiritual practice amidst an irreducible indeterminacy. Among her many books are Apocalypse Now & Then; God and Power; and The Face of the Deep: A Theology of Becoming.