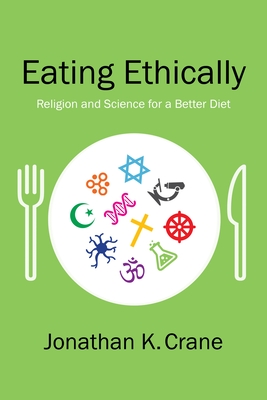 Eating Ethically
Religion and Science for a Better Diet
Hardcover

* Individual store prices may vary.
Description
Few activities are as essential to human flourishing as eating, and fewer still are as ethically fraught. Eating well is particularly confusing. We live amid excess, faced with conflicting recommendations, contradictory scientific studies, and complex moral, medical, and environmental consequences that influence our choices. A new eating strategy is urgently needed, one grounded in ethics, informed by biology, supported by philosophy and theology, and, ultimately, personally achievable. Eating Ethically argues persuasively for more adaptive eating practices. Drawing on religion, medicine, philosophy, cognitive science, art, ethics, and more, Jonathan K. Crane shows how distinguishing among the eater, the eaten, and the act of eating promotes a radical reorientation away from external cues and toward internal ones. This turn is vital for survival, according to classic philosophy on appetite and contemporary studies of satiety, metabolic science as well as metaphysics and religion. By intertwining ancient wisdom from Judaism, Christianity, and Islam with cutting-edge research, Crane concludes that ethical eating is a means to achieve both personal health and social cohesion. Grounded in science and tradition, Eating Ethically shows us what it truly means to eat well.
Columbia University Press, 9780231173445, 264pp.
Publication Date: December 19, 2017
About the Author
Jonathan K. Crane is the Raymond F. Schinazi Scholar in Bioethics and Jewish Thought at the Emory University Center for Ethics. He is the author of Narratives and Jewish Bioethics (2013); editor of Beastly Morality: Animals as Ethical Agents (Columbia, 2015); and coeditor of The Oxford Handbook of Jewish Ethics and Morality (2013).