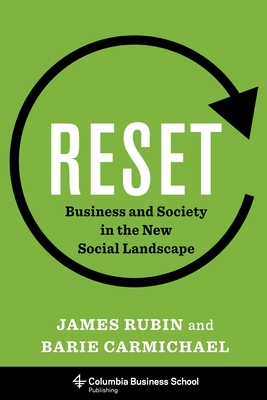 Reset
Business and Society in the New Social Landscape (Columbia Business School Publishing)
Hardcover

* Individual store prices may vary.
Description
As consumers, our access to--and appetite for--information about what and how we buy continues to grow. Powered by social media, we scrutinize the companies behind familiar products and are disappointed when their actions do not meet our expectations. With citizens acting as 24/7 auditors of corporate behavior, one formerly trusted company after another has had their business disrupted with astonishing velocity. Control of the corporate narrative has shifted to engaged stakeholders in the new social landscape, requiring a radical change to company practices. James Rubin and Barie Carmichael provide a strategic roadmap for businesses to navigate the new era, rebuild trust, and find their voice. Reset traces the global decline of trust in business at the same time that the public's expectations for business's role in society are rising. Today, businesses must bridge this widening gap, which requires strategic solutions anchored in a critical outside-in understanding of the stakeholder footprint of the business model. C-suite executives who proactively mitigate the negative social impacts inherent in their business models, strategies, and operations can find win-win solutions that not only benefit both their business and society, but also enable sustainable growth in the challenging new social landscape. Rubin and Carmichael offer case studies of reputations lost and found, suggesting fundamental strategies to mitigate risk and build the corporate brand. Reset is an essential guide to navigating the pitfalls and taking advantage of the opportunities of the reset.
Columbia Business School Publishing, 9780231178242, 272pp.
Publication Date: January 9, 2018
About the Author
James Rubin (1951-2016) was a member of the faculty at the University of Virginia Darden Graduate School of Business for more than two decades, serving as area coordinator for its management communications course. He authored numerous case studies on crisis communications and corporate branding, and was a longtime member of the Arthur Page Society. Barie Carmichael is a Batten Fellow at the University of Virginia Darden Graduate School of Business and a senior counselor at the global communications consultancy APCO Worldwide. She has more than thirty-five years of experience in corporate communications, having been a partner at the Brunswick Group, a global advisory firm, and Dow Corning's corporate vice president and chief communications officer.