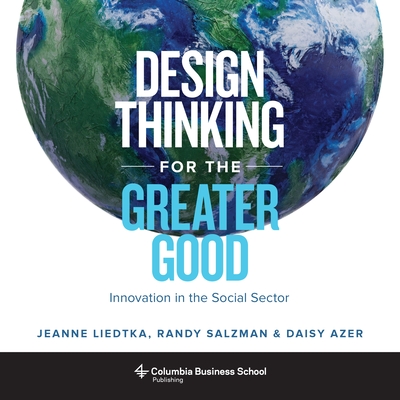 Design Thinking for the Greater Good
Innovation in the Social Sector (Columbia Business School Publishing)
Hardcover

* Individual store prices may vary.
Description
Facing especially wicked problems, social sector organizations are searching for powerful new methods to understand and address them. Design Thinking for the Greater Good goes in depth on both the how of using new tools and the why. As a way to reframe problems, ideate solutions, and iterate toward better answers, design thinking is already well established in the commercial world. Through ten stories of struggles and successes in fields such as health care, education, agriculture, transportation, social services, and security, the authors show how collaborative creativity can shake up even the most entrenched bureaucracies--and provide a practical roadmap for readers to implement these tools. The design thinkers Jeanne Liedtka, Randy Salzman, and Daisy Azer explore how major agencies like the Department of Health and Human Services and the Transportation and Security Administration in the United States, as well as organizations in Canada, Australia, and the United Kingdom, have instituted principles of design thinking. In each case, these groups have used the tools of design thinking to reduce risk, manage change, use resources more effectively, bridge the communication gap between parties, and manage the competing demands of diverse stakeholders. Along the way, they have improved the quality of their products and enhanced the experiences of those they serve. These strategies are accessible to analytical and creative types alike, and their benefits extend throughout an organization. This book will help today's leaders and thinkers implement these practices in their own pursuit of creative solutions that are both innovative and achievable.
Columbia Business School Publishing, 9780231179522, 352pp.
Publication Date: September 5, 2017
About the Author
Jeanne Liedtka is a professor at the Darden Graduate School of Business Administration at the University of Virginia. Her books include Solving Problems with Design Thinking (2013), Designing for Growth (2011), and The Designing for Growth Field Book (2013), all from Columbia University Press. Randy Salzman is a journalist and former communications professor. His work has been published in over one hundred magazines, journals, and newspapers, from the Wall Street Journal and the New York Times to Mother Jones, Bicycling, and Style. Daisy Azer is an an entrepreneur, principal at Waterbrand Consulting Inc., and adjunct lecturer of design thinking at the Darden Graduate School of Business. Her career spans roles in business development and training and development in the financial industry, education, and technology.