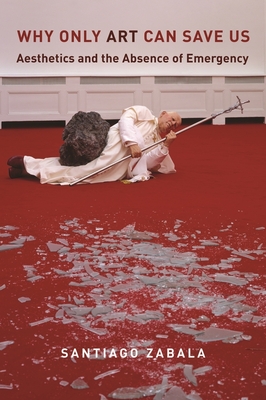 Why Only Art Can Save Us (Hardcover)
Aesthetics and the Absence of Emergency
Columbia University Press, 9780231183482, 216pp.
Publication Date: September 5, 2017
Other Editions of This Title:
Paperback (5/28/2019)
* Individual store prices may vary.
Description
The state of emergency, according to thinkers such as Carl Schmidt, Walter Benjamin, and Giorgio Agamben, is at the heart of any theory of politics. But today the problem is not the crises that we do confront, which are often used by governments to legitimize themselves, but the ones that political realism stops us from recognizing as emergencies, from widespread surveillance to climate change to the systemic shocks of neoliberalism. We need a way of disrupting the existing order that can energize radical democratic action rather than reinforcing the status quo. In this provocative book, Santiago Zabala declares that in an age where the greatest emergency is the absence of emergency, only contemporary art's capacity to alter reality can save us. Why Only Art Can Save Us advances a new aesthetics centered on the nature of the emergency that characterizes the twenty-first century. Zabala draws on Martin Heidegger's distinction between works of art that rescue us from emergency and those that are rescuers into emergency. The former are a means of cultural politics, conservers of the status quo that conceal emergencies; the latter are disruptive events that thrust us into emergencies. Building on Arthur Danto, Jacques Ranci re, and Gianni Vattimo, who made aesthetics more responsive to contemporary art, Zabala argues that works of art are not simply a means of elevating consumerism or contemplating beauty but are points of departure to change the world. Radical artists create works that disclose and demand active intervention in ongoing crises. Interpreting works of art that aim to propel us into absent emergencies, Zabala shows how art's ability to create new realities is fundamental to the politics of radical democracy in the state of emergency that is the present.
About the Author
Santiago Zabala is ICREA Research Professor of Philosophy at the Pompeu Fabra University in Barcelona. He is the author of The Hermeneutic Nature of Analytic Philosophy: A Study of Ernst Tugendhat (Columbia, 2008); The Remains of Being: Hermeneutic Ontology After Metaphysics (Columbia, 2009); and (with Gianni Vattimo) Hermeneutic Communism: From Heidegger to Marx (Columbia, 2011), and the editor of several of Vattimo's books, including Nihilism and Emancipation: Ethics, Politics, and Law (2004); The Future of Religion (2005, with Richard Rorty); and Art's Claim to Truth (2008), all from Columbia University Press. He also writes opinion articles for publications including the New York Times, Al Jazeera, and the Los Angeles Review of Books.