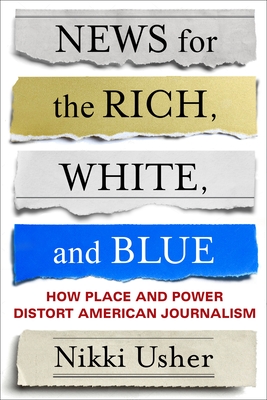 News for the Rich, White, and Blue
How Place and Power Distort American Journalism
Paperback

* Individual store prices may vary.
Other Editions of This Title:
Hardcover (7/6/2021)
Description
As cash-strapped metropolitan newspapers struggle to maintain their traditional influence and quality reporting, large national and international outlets have pivoted to serving readers who can and will choose to pay for news, skewing coverage toward a wealthy, white, and liberal audience. Amid rampant inequality and distrust, media outlets have become more out of touch with the democracy they purport to serve. How did journalism end up in such a predicament, and what are the prospects for achieving a more equitable future? In News for the Rich, White, and Blue, Nikki Usher recasts the challenges facing journalism in terms of place, power, and inequality. Drawing on more than a decade of field research, she illuminates how journalists decide what becomes news and how news organizations strategize about the future. Usher shows how newsrooms remain places of power, largely white institutions growing more elite as journalists confront a shrinking job market. She details how Google, Facebook, and the digital-advertising ecosystem have wreaked havoc on the economic model for quality journalism, leaving local news to suffer. Usher also highlights how the handful of likely survivors--well-funded media outlets such as the New York Times--increasingly appeal to a global, "placeless" reader. News for the Rich, White, and Blue concludes with a series of provocative recommendations to reimagine journalism to ensure its resiliency and its ability to speak to a diverse set of issues and readers.
Columbia University Press, 9780231184670, 376pp.
Publication Date: July 6, 2021
About the Author
Nikki Usher is an associate professor of journalism in the College of Media at the University of Illinois with affiliate appointments in communication and political science. She is the author of Making News at the "New York Times" (2014) and Interactive Journalism: Hackers, Data, and Code (2016).