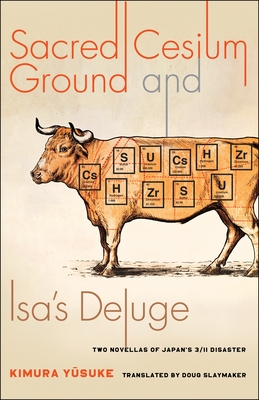 Sacred Cesium Ground and Isa's Deluge (Paperback)
Two Novellas of Japan's 3/11 Disaster (Weatherhead Books on Asia)
Columbia University Press, 9780231189439, 176pp.
Publication Date: January 29, 2019
Other Editions of This Title:
Hardcover (1/29/2019)
* Individual store prices may vary.
Description
In these two novellas, Kimura Yūsuke explores human and animal life in northern Japan after the natural and nuclear disasters of March 11, 2011. Kimura inscribes the "Triple Disaster" into a rich regional tradition of storytelling, incorporating far-flung voices and experiences to testify to life and the desire to represent it in the aftermath of calamity.
​
In Sacred Cesium Ground, a woman from Tokyo travels to volunteer at a cattle farm known as the "Fortress of Hope," tending irradiated animals abandoned after the reactor meltdown. The farm closely resembles an actual ranch that has been widely covered in Japan, and the story's portrayal of those who stubbornly care for animals in spite of the danger speaks to the sense of futility and meaningfulness in the wake of traumatic events. Isa's Deluge depicts a family of fishermen whose crotchety patriarch draws on old tales of the floods that have plagued the region to fashion himself as the father of the tsunami. Together, the novellas present often-unheard voices of one of Japan's peripheral regions and their anger toward the government and Tokyo for mishandling and forgetting their part of the country. Kimura's command of dialect and conversational language is masterfully translated by Doug Slaymaker. Postapocalyptically surreal yet teeming with life, Kimura's stories will be a revelation for readers looking for a new perspective on the disaster's consequences for Japan and on the interrelated meanings of human and animal lives and deaths.
About the Author
Kimura Yūsuke was born in 1970 in Hachinohe, Aomori Prefecture. He is the author of several acclaimed works, many of which are set in this region. These are the first of his works to be translated into English. Doug Slaymaker is a professor of Japanese at the University of Kentucky. He is the translator, with Akiko Takenaka, of Hideo Furukawa's Horses, Horses, in the End the Light Remains Pure (Columbia, 2016).