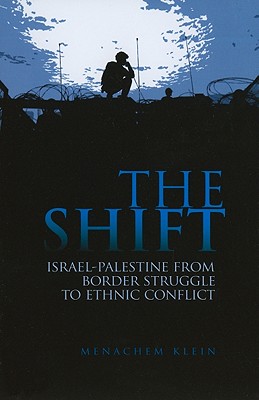 The Shift
Israel-Palestine from Border Struggle to Ethnic Conflict
Hardcover

* Individual store prices may vary.
Other Editions of This Title:
Hardcover (9/1/2010)
Description
Since 2000, the Israeli army has increased the size and strength of its operations in occupied territories. These activities, matched with an unprecedented rise in the construction of Jewish settlements, have irrevocably changed the relationship between Palestinians and Israelis. As Menachem Klein sees it, what was once a border conflict has now become an ethnic struggle, with Jewish Israel establishing an ethno-security regime that stretches from Jordan to the Mediterranean, facilitated and accelerated by the recent results of elections in Israel, the United States, and the territory controlled by the Palestinian Authority.
In a bold challenge to those who claim Israel has done nothing more than pursue a framework of "occupation," Klein identifies a radical shift that has put ethnicity at the center of its security initiatives. Even Israeli citizens of Palestinian origin are at risk of becoming targets. Klein closely reads the legal and political apparatus now cocooning Israel's shrinking Jewish majority. Within this system, Palestinians have been divided into several categories with different privileges: Israel's Palestinian citizens; the residents of Jerusalem; the two groups that occupy the West Bank, separated by the Separation Barrier; and those who live under siege in the Gaza Strip. Grounding his work in primary sources and hard-to-find statistics, Klein completes a groundbreaking, unflinchingly study that portrays the realities of the Israeli-Palestinian conflict. He ultimately argues that a single, nonethnic state is not the best solution, instead supporting a two-state compromise, as difficult as it may be, as the only viable way to peace.
Columbia University Press, 9780231701969, 206pp.
Publication Date: November 1, 2010
About the Author
Menachem Klein is a senior lecturer in political science at Bar-Ilan University, and was a team member of the Geneva Initiative negotiations of 2003. He has advised both the Israeli government and the Israeli delegation for peace talks with the PLO (2000), and was a fellow at Oxford University and the European University Institute, as well as a visiting professor at the Massachusetts Institute of Technology. Klein is also the authorof "A Possible Peace Between Israel and Palestine: An Insider's Account of theGeneva Initiative."
or
Not Currently Available for Direct Purchase