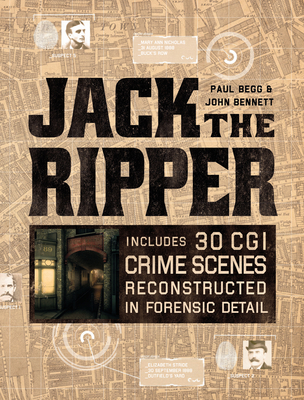 Jack the Ripper (Hardcover)
Andre Deutsch, 9780233005201, 224pp.
Publication Date: September 5, 2017
Other Editions of This Title:
Hardcover (3/25/2014)
Hardcover (11/6/2012)
Paperback (11/4/2004)
Hardcover (4/27/2016)
* Individual store prices may vary.
Description
Written by two leading researchers on Jack the Ripper, this popular, in-depth study of the most renowned serial killer in history now comes in a new, smaller size.
Over 100 years have elapsed since what is believed to have been Jack the Ripper's final killing, yet hundreds of books, television programs, and films continue to be produced every year on the subject. Jack the Ripper transports readers back to the London of 1888 through CGI artwork and unique reconstructions of the Ripper's murders, created with pinpoint accuracy. These detailed and atmospheric crime-scene re-creations, supported by a fascinating, expertly researched text, give readers the most complete view to date of the gruesome homicides that shook Victorian society.
About the Author
Paul Begg is a leading Ripper researcher who wrote Jack the Ripper: The Facts (2004) and Jack the Ripper: The Definitive History (Routledge), and cowrote The Jack the Ripper A to Z (Robson Books). He has appeared on television as an expert on the Ripper, including in Jack the Ripper: An Ongoing Mystery (2000) and The Real Jack the Ripper (2010). He also wrote the documentary Jack the Ripper: The Definitive Story, which aired in 2011 in the UK. John Bennett is the author of E1: A Journey Through Whitechapel and Spitalfields (Five Leaves Publications). He is also a teacher and a tour guide, with a special focus on the East End.