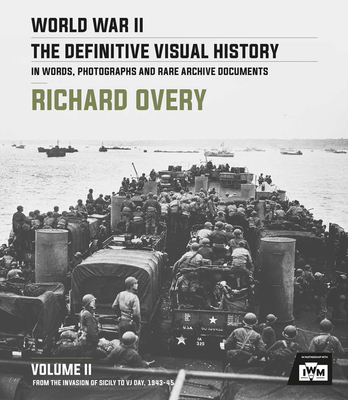 World War II (Hardcover)
The Definitive Visual History Volume II: From the Invasion of Sicily to Vj Day 1943-45
Welbeck, 9780233006215, 160pp.
Publication Date: March 3, 2020
Other Editions of This Title:
Hardcover (3/3/2020)
* Individual store prices may vary.
Description
Published to commemorate the 75th anniversary of Victory in Europe Day (May 2020) and Victory in Japan Day (August 2020), this second of two volumes is an outstanding concise history of WWII from the invasion of Sicily to VJ Day. This second volume in the landmark series about WWII examines the Allies' long struggle for victory against the once-unbeatable Axis powers. Starting with the Allied invasion of mainland Europe and ending with the explosion of the atomic bombs on Hiroshima and Nagasaki, it takes us through the gripping events that finally resulted in victory and peace. Here are some of the war's most dramatic moments: the use of so-called V-weapons by the Nazis to maximize civilian casualties; the unforgettable story of D-Day and the battle for Normandy; the Battle of the Bulge, which finally broke Axis power in the West; and the indescribably bloody and brutal race to Berlin that finally extinguished the Third Reich. Bind-up of Second World War Experience: Turning of the Tide and Second World War Experience: The Struggle for Victory
About the Author
Richard Overy, Professor of History, University of Exeter, is a world-renowned historian and an expert on the history of WWII, air warfare, and the Hitler and Stalin dictatorships. He has won five prizes for his published work, including the Wolfson prize for History in 2005. He is the author of Carlton's landmark The Battle of Britain, in association with the RAF. He regularly contributes to the Independent, Sunday Telegraph, and Guardian.
or
Not Currently Available for Direct Purchase