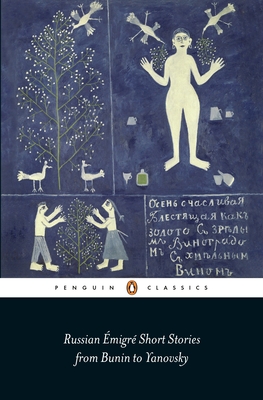 Russian Émigré Short Stories from Bunin to Yanovsky
Paperback

* Individual store prices may vary.
Description
A landmark anthology that will introduce many extraordinary, unknown Russian writers to an English-language readership for the first time      

Fleeing Russia amid the chaos of the Russian Revolution and subsequent Civil War, many writers went on to settle in Paris, Berlin and elsewhere and forged new lives in exile. Much of their subsequent work, published in Russian language magazines and books, is entirely unknown in the West and has only been recently discovered in Russia itself. As well as including stories by the most famous émigré writers, Vladimir Nabokov and Ivan Bunin, this collection introduces many lesser known voices: Yuri Felzen, known as "the Russian Proust", Nadezhda Teffi, the hugely popular and funny story writer, and Georgy Ivanov, whose work of poetic prose "The Atom Explodes" is a brilliant, haunting response to the upheaval and trauma of emigration. Exploring themes of displacement, nostalgia, loss and new beginnings, this anthology will transform the Anglophone world's understanding of Russian émigré writing in the twentieth century.
Praise For Russian Émigré Short Stories from Bunin to Yanovsky…
Honorable Mention, Read Russia Prize for the best translation of Russian literature into English

"A brilliant, poignant anthology." 
—Alexis Levitin, Los Angeles Review of Books
 
"Ably translated ... Bryan Karetnyk has produced that most welcome artefact in this age of the floating text: an 'enhanced' paperback whose fictive stories are fully equipped with their histories. Writers' biographies, historical chronology, a list of Russian émigré venues, and well-researched footnotes serve to anchor each narrative in its own peripatetic time and space."
—Caryl Emerson, TLS
 
"Compelling ... Karetnyk's anthology transports the reader into the motley lives and imaginations of Russian émigrés in Paris, Berlin and beyond. Highly recommended reading for anyone fascinated by prerevolutionary Russian culture as preserved among the ranks of the two million-odd Whites that formed the first wave of emigration from Bolshevik Russia."
—Anna Gunin, The Riveter
 
"A powerful reminder of the trauma of civil war and hardships of displacement ... The stories evoke a lost world with attendant nostalgia, sorrow, fear and anger ... Rarely has the term 'unjustly neglected' rung more true."
—Country Life

"A rich anthology . . . Editor and lead translator Bryan Karetnyk has done a marvelous job of selecting authors and works in order to present a snapshot of the very large literary output of the emigration. . . . The translations . . . maintain a high standard of literary quality and precision. Admirably equipped with biographical and explanatory notes, this anthology presents to the Anglophone reader, for the first time, a unified representation of the authors and disparate, yet interlinked cultural contexts of first-wave Russian emigration." —Judges' citation, Read Russia Prize (honorable mention)
Penguin Classics, 9780241299739, 464pp.
Publication Date: July 11, 2017
About the Author
Bryan Karetnyk is an editor and a translator of Russian literature. He read Russian and Japanese at the University of Edinburgh, subsequently working as a translator for the Civil Service. His recent work focuses primarily on Russian émigré studies, and his acclaimed translations of Gaito Gazdanov include The Spectre of Alexander Wolf, The Buddha's Return and The Flight.
or
Not Currently Available for Direct Purchase