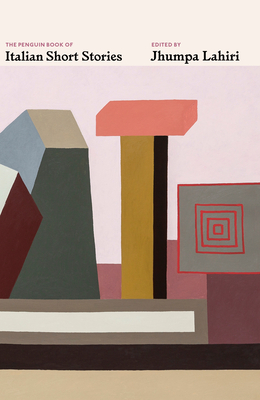 The Penguin Book of Italian Short Stories (A Penguin Classics Hardcover)
Hardcover

* Individual store prices may vary.
Other Editions of This Title:
Paperback (9/15/2020)
Description
A landmark collection of stories--nearly half appearing in English for the first time--selected and introduced by Pulitzer Prize winner Jhumpa Lahiri, who now lives in Italy and reads exclusively in Italian

A Penguin Classics Hardcover

When Jhumpa Lahiri decided to read exclusively in Italian, a language she had studied for many years, her life as a reader--and writer--took a surprising turn. Complete immersion in this rich literary heritage brought fresh insight and
unexpected freedom.

This collection brings together forty writers who have shaped her love of the Italian language and profound appreciation for its literature. More than half of the stories featured in this volume have been translated into English for the first time, and the wide-ranging selection includes well-known authors such as Italo Calvino, Elsa Morante, and Luigi Pirandello alongside many captivating rediscoveries.

Poets, journalists, visual artists, musicians, editors, critics, teachers, scientists, politicians, translators: the writers that inhabit these pages represent a dynamic cross-section of Italian society. Together they reflect more than a hundred years of Italy's vibrant and diverse short-story tradition, their powerful voices resonating through regional landscapes, private passions, and the dramatic political events of the twentieth century.
Praise For The Penguin Book of Italian Short Stories (A Penguin Classics Hardcover)…
"The perfect companion whenever I get around to that trip to Rome." —Jeva Lange, The Week

"An excellent introduction to Italy—a sentimental Baedeker useful for traveling into the mind of a fascinating if elusive nation . . . To have re-discovered, edited, and re-proposed these authors is laudable. But Lahiri went further: she understood them. And she shares a deep appreciation for their common denominator: Italy. . . . This is the real Italy. And The Penguin Book of Italian Short Stories demonstrates this better than any travel guide does." —Beppe Severgnini, Air Mail

"A remarkable introduction to Italian literature and a great gift to the English-speaking reader . . . Each story in this volume is a jewel." —Kirkus Reviews, starred review

"A welcome addition to the shelf of Penguin anthologies of world literature . . . [Lahiri] features women, authors less-known or neglected, and those 'who practiced the short form with particular vehemence and virtuosity.' . . . The Penguin Book of Short Stories may reward the patient listener to the voices of these tellers." —PopMatters

"Jhumpa Lahiri crowns her public turn as an Italophile and translator with [The Penguin Book of Italian Short Stories]. . . .  It could hardly come at a better time, when Elena Ferrante's novels and the American revival of Natalia Ginzburg are igniting new interest in the literary traditions of the Belpaese." —Lit Hub

"Rich . . . Eclectic . . . A feast . . . Her choice of 40 authors embraces familiar greats and sows them with fascinating additions. . . . They remind us of the short story's playfulness, its ability to move us with unexpected sharpness while it experiments with voices, styles and boundaries." —The Telegraph

"An enticing collection . . . The tales are by turns startling, moving, intriguing and provocative; they bring melancholy, humor and a dose of the uncanny." —The Times Literary Supplement

"Refreshing and surprisingly contemporary . . . A map of Ferrante's hinterland . . . Lahiri has pulled off something quite striking here: a literary anthology that sparkles with invention and variety, makes a remarkably convincing case for the vitality of the modern Italian short story and also beguiles, thanks to her sharp-eyed work as editor, compiler and part-translator. . . . There's a gamut of register—comedy, fantasy, satire, psychological and social realism and more. . . . There are plenty of big hitters—Lampedusa, Svevo, Sciascia, Gadda, Calvino—though they are often represented with nicely unpredictable stories. . . . And there are captivating juxtapositions. . . . Throughout, Lahiri displays deft literary and linguistic touches. She is clearly enjoying this. She provides elegant one-page bios for all forty writers. . . . She writes with compelling force of the dense pluralism of voice in Italian language and literature. Crucially, she also makes a point of championing the extraordinary depth and quality of women's voices." —Literary Review

"This volume, which honors so many writer-translators, is as much a tribute to the Italian short story as it is a validation of the need—aesthetic, political, ethical—for translation itself. . . . Only works in translation can broaden the literary horizon, open doors, break down the wall." —Jhumpa Lahiri, from the Introduction
Penguin Classics, 9780241299838, 528pp.
Publication Date: September 10, 2019
About the Author
Jhumpa Lahiri is the author of five works of fiction: Interpreter of Maladies, The Namesake, Unaccustomed Earth, Whereabouts, and The Lowland, which was shortlisted for the Man Booker Prize, the Baileys Women's Prize for Fiction, and the National Book Award. She has received numerous awards, including the Pulitzer Prize; the PEN/Hemingway Award; the Frank O'Connor International Short Story Award; the Premio Gregor von Rezzori; the DSC Prize for South Asian Literature; a 2014 National Humanities Medal, awarded by President Barack Obama; and the Premio Internazionale Viareggio-Versilia for In Other Words, her memoir about learning Italian. She is the author of the essay collection Translating Myself and Others and was a finalist for the 2018 National Book Award for Translated Literature for her translation from the Italian of Domenico Starnone's novel Trick.