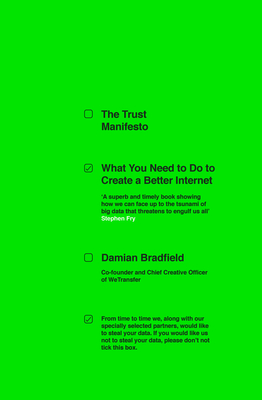 The Trust Manifesto
What You Need to Do to Create a Better Internet
Paperback

* Individual store prices may vary.
Description
From the moment we wake up and unlock our phones, we're producing data. We offer up our unique fingerprint to the online world, scan our route to work, listen to a guided meditation or favorite playlist, slide money around, share documents and update our social media accounts. We reach for our phones up to 200 times a day, not knowing which companies are storing, using, selling and manipulating our data. But do we care? We're busy. We've got lives. We're pressed for time! There aren't enough hours in the day to read the terms and conditions. Or, maybe we're happy to trade our personal data for convenient services and to make our lives easier? Big data is the phenomenon of our age, but should we trust it without question? This is the trust dilemma. Damian is Chief Creative Officer and founding shareholder of WeTransfer, the largest file-sharing platform in the world with 50 million global users, shipping more than one billion files of data a month. His unique experience of the big data economy has led him to question if there is another way to build the internet, one that is fairer and safer for everyone and, in The Trust Manifesto, he lays out this vision.
Praise For The Trust Manifesto: What You Need to Do to Create a Better Internet…
"In less than a generation, the Internet has revolutionized how we live, work, think and feel. As the technologies advance and the networks proliferate, it's a sure bet that even more radical disruptions lie ahead. In this powerful and elegant book, Damian Bradfield argues with insight and authority that it's high time to draw breath. What sort of Internet do we really want and is it what we have now? Should we trade our privacy for the benefits of being online? Should companies profit from selling our personal information? What values should guide us from here? No vague hypothesis, The Trust Manifesto is rooted in the wild success of WeTransfer, which proves beyond doubt there is an ethical - and profitable - alternative. Enlightening, provocative, and wonderfully thoughtful, this is an essential book for our times." —Sir Ken Robinson, New York Times-bestselling author of The Element: How Finding Your Passion Changes Everything

"A superb and timely book showing how we can face up to the tsunami of big data that threatens to engulf us all." —Stephen Fry

"A powerful and timely call to arms. Damian interrogates our current attitudes to big data and provides compelling evidence to suggest an alternative approach." —Brent Hoberman, Co-Founder and Chairman at Founders Factory, Founders Forum, firstminute capital, Karakuri
Portfolio Penguin, 9780241369845, 336pp.
Publication Date: April 1, 2020
About the Author
Damian Bradfield is the CCO and founding shareholder of WeTransfer, a company that now has over 50 million active monthly users. He is also the cofounder of Present Plus, a design and experience-driven venture studio. Named one of the most influential voices in tech today by Forbes magazine, Bradfield speaks to audiences globally on topics of innovation, education and the arts and his work has appeared in Fast Company, the Financial Times and Business Insider amongst others. 
or
Not Currently Available for Direct Purchase