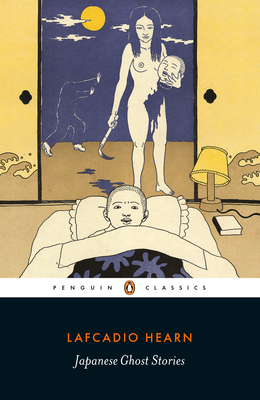 Japanese Ghost Stories
Paperback

* Individual store prices may vary.
Description
Brilliantly entertaining and eerie ghost stories, regarded as major classics in Japan, by the Irish writer and Japanophile Lafcadio Hearn—whose life inspired bestselling writer Monique Truong's novel The Sweetest Fruits

A Penguin Classic

In this collection of classic ghost stories from Japan, beautiful princesses turn out to be frogs, paintings come alive, deadly spectral brides haunt the living, and a samurai delivers the baby of a Shinto goddess with mystical help. Here are all the phantoms and ghouls of Japanese folklore: "rokuro-kubi," whose heads separate from their bodies at night; "jikininki," or flesh-eating goblins; and terrifying faceless "mujina" who haunt lonely neighborhoods. Lafcadio Hearn, a master storyteller, drew on traditional Japanese folklore, infused with memories of his own haunted childhood in Ireland, to create the chilling tales in Japanese Ghost Stories. They are today regarded in Japan as classics in their own right.
Praise For Japanese Ghost Stories…
"The pleasures of [Hearn's] work are to be found in his delightfully bizarre hybrid renditions of Japanese folklore—particularly of a genre called kaidan, or tales of the uncanny—old stories that he blended with elements of horror and French Romanticism, the best of which are collected in Japanese Ghost Stories. . . . The result is something that sits at the nexus of Borges, Baudelaire, and Bram Stoker, and that prompted Malcolm Cowley to call Hearn 'the writer in our language who can best be compared with Hans Christian Andersen and the Brothers Grimm.' . . . His retellings of these strange tales are a delight to read." —The New York Review of Books

"Attractive . . . The framing commentary . . . adds to the charm of the whole. . . . How curious, and how touching, that it fell to a peripatetic Westerner to vouchsafe these enchanting homegrown stories the immortality they deserve." —The Wall Street Journal

"The stories in this new Penguin anthology are why Hearn continues to have a lasting legacy in both America and in his adopted homeland, Japan. . . . . It is a testament to the power of Hearn's writings that this foreign-born writer has earned a place in the canon of Japanese literature—his work is still celebrated in Japan to this day." —Colin Dickey, Longreads
Penguin Classics, 9780241381274, 272pp.
Publication Date: September 24, 2019
About the Author
The improbable life story of Lafcadio Hearn (1850–1904) included a peculiarly gothic childhood in Ireland during which he was successively abandoned by his mother, his father and his guardian; two decades in New Orleans, where he worked as a journalist and was sacked for marrying a former slave; and a long period in Japan, where he became a Buddhist, married a Japanese woman and wrote about ju-jitsu and Japanese aesthetics for a Western readership. His ghost stories, which were drawn from Japanese folklore, appeared in collections throughout the 1890s. He is a much celebrated figure in Japan.

Paul Murray (editor/introducer) is the author of biographies of Lafcadio Hearn and Bram Stoker, and the editor of collections of Hearn's work. He is a former Irish diplomat whose posting to Japan in the late 1970s first ignited his interest in Hearn.