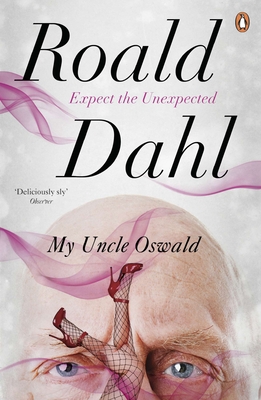 My Uncle Oswald (Paperback)
Penguin Books, 9780241955765, 263pp.
Publication Date: August 28, 2012
Description
Meet Oswald Hendryks Cornelius, Roald Dahl's most disgraceful and extraordinary character . . . Aside from being thoroughly debauched, strikingly attractive and astonishingly wealthy, Uncle Oswald was the greatest bounder, bon vivant and fornicator of all time. In this instalment of his scorchingly frank memoirs he tells of his early career and erotic education at the hands of a number of enthusiastic teachers, of discovering the invigorating properties of the Sudanese Blister Beetle, and of the gorgeous Yasmin Howcomely, his electrifying partner in a most unusual series of thefts . . . 'Raunchy and cheeky entertainment' Sunday Express 'Immense fun' Daily Telegraph Roald Dahl, the brilliant and worldwide acclaimed author of Charlie and the Chocolate Factory, James and the Giant Peach, Matilda, and many more classics for children, also wrote scores of short stories for adults. These delightfully disturbing tales have often been filmed and were most recently the inspiration for the West End play, Roald Dahl's Twisted Tales by Jeremy Dyson. Roald Dahl's stories continue to make readers shiver today.
About the Author
Roald Dahl, the best-loved of children's writers, was born in Wales of Norwegian parents. His books continue to be bestsellers, despite his death in 1990, and total UK sales are 55 million worldwide! Quentin Blake is one of the best-known and best-loved children's illustrators and it's impossible now to think of Roald Dahl's writings without imagining Quentin Blake's illustrations.
Praise For My Uncle Oswald…
"One of the most widely read and influential writers of our generation."

-The Times

"Immense fun."
-Daily Telegraph

"Raunchy exuberance and cheeky entertainment."

-Sunday Express

"Deliciously silly."
-Observer

"What can be said is that My Uncle Oswald provides four or five hours of effortless reading and some amusing scenes, mostly of the kind film makers have taught us to call soft porn—so soft, indeed, that at times they turn out almost fluffy.

The tone is that of a gentleman telling ribald anecdotes to his male guests after dinner. The leer is civilized . . . the dialog gets mean and raunchy, but the physical detail is kept decorous. . . . Mr. Dahl's guests are not invited to vicarious orgy, then, nor will they hear a disguised lecture by a wicked satirist of morals and manners."


-Vance Bourjaily

"A festival of bad taste that is at heart so innocent that we soon forgive it and enjoy ourselves . . . thoroughly juvenile fun . . . I haven't had so much fun of this sort since my last all-night joke-telling session at summer camp."
-Christopher Lehman-Haupt
Advertisement