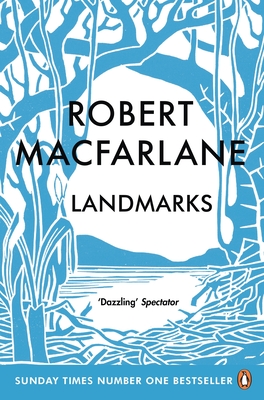 Landmarks (Landscapes #4)
Paperback

* Individual store prices may vary.
Description
From Robert Macfarlane, the acclaimed author of The Old Ways and Underland—a celebration of the language of landscape and the power of words to shape our sense of place
 
For years now, the British writer Robert Macfarlane has been collecting place-words: terms for aspects of landscape, nature, and weather, drawn from dozens of languages and dialects of the British Isles. In this, his fifth book, Macfarlane brilliantly explores the linguistic and literary terrain of the British archipelago, from the Shetlands to Cornwall and from Cumbria to Suffolk, offering themed glossaries of hundreds of these rare, deeply local, poetical terms, organized by such geographical terrains as flatlands, uplands, waterlands, coastlands, woodlands, and underlands. Interspersed with this archive of place words are biographical essays in which Macfarlane writes of his favorite authors who have paid close attention to the natural world and who embody in their own work the huge richness of place language—from Barry Lopez and John Muir to Nan Shepard, J. A. Baker, and Roger Deakin. Landmarks is a book about the power of language and how it can become a way to know and love landscape, from a writer acclaimed for his own precision of utterance and distinctive, lyrical voice.
Praise For Landmarks (Landscapes #4)…
Praise from America and England for Landmarks

"Landmarks is wildly ambitious, part outdoor adventure story, part literary criticism, part philosophical disquisition, part linquistic excavation project, part mash note. . . It's an argument for sitting down with a book; it's also an argument for going outside and paying attention."
– The New York Times

"[A] magnificent meditation on the words we have for describing the natural world. . . [Macfarlane] is the great nature writer, and nature poet, of this generation."
- Tom Shippey, The Wall Street Journal

"Simply one of the best nature history books I have read in years, Landmarks is a stunning paean to the beauty of language, the craft of writing and the power of nature. It is truly a book that will force you to rethink your relationship to the world around you."
– The Seattle Times

"[A] fascinating, poetic compilation of vocabulary invented to describe the natural world. . .Lucent, lyrical prose evokes Macfarlane's aesthetic, ethical, and powerfully tactile response to nature's enchantments."
– Kirkus Reviews
 
"Macfarlane's beautifully written blend of nature writing and lexicon connects the work of his favorite writers to the British Isles' natural settings and the distinctive, lyrical vocabulary used to describe them. . .[An] exceptional compilation."
– Publishers Weekly
 
"This joyous meditation on land and language is a love letter to the British Isles." 
- Observer

"Lyrical, charged with a monumental strength. Surely no one since the young Ted Hughes has written about British landscape and wildlife with such fierce enthusiasm. Few writers today have such power to make you look afresh at the familiar . . . making a British countryside come alive as the most exotic place on earth." 
- Daily Express

"Astonishing and revelatory. Please read Landmarks, encounter its wonderful words, let them open your mind . . . start looking at the world in the dazzlingly receptive way they have taught you." 
- Adam Nicolson, Spectator

"As teeming and complex as an ecosystem, rawly moving, enormously pleasurable, historically important and imaginatively compelling, elegant and scholarly."
- Melissa Harrison, Financial Times

"Passionate and magical...A deep scholarship of the countryside with an adventurous approach, all rendered in immaculate, delicious prose. Macfarlane offers an enriched nature. A kind of manual of how people in love with place and language are created by landscape."
- Horatio Clare, Daily Telegraph

"So important, enriching. Ought to be read by policymakers, educators, armchair environmentalists and active conservationists the world over."
- John Burnside, Guardian

Penguin Books, 9780241967874, 448pp.
Publication Date: August 2, 2016
About the Author
Robert Macfarlane is the author of a prizewinning quartet of books about landscape and the human heart: Mountains of the Mind, The Wild Places, The Old Ways, and Landmarks. He has contributed to Harper's, Granta, The New Yorker, the Observer (London), the Times Literary Supplement (London), and the London Review of Books. He is a fellow of Emmanuel College, Cambridge.