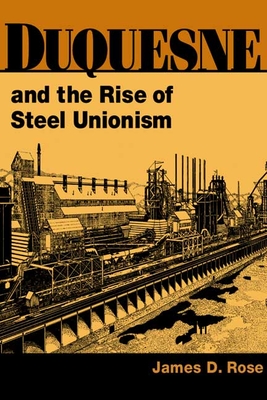 Duquesne and the Rise of Steel Unionism (Working Class in American History)
Hardcover

* Individual store prices may vary.
Description
Dismissed as a flimsy front for management interests, industrial unions nonetheless carved out a role in the Carnegie Steel Company empire and then at U.S. Steel. James D. Rose examines the pivotal role played by these company-sponsored employee representation plans (ERPs) at the legendary steel works in Duquesne, Pennsylvania. 
As Rose reveals, ERPs matured from tools of the company into worker-led organizations that represented the interests of the mills' skilled tradesmen and workers. ERPs and management created a sophisticated bargaining structure. Meanwhile, the independent trade union gave way to the Steel Workers Organizing Committee (SWOC), a professionalized organization that expended huge resources on companywide unionization. Yet even when the SWOC secured a collective bargaining agreement in 1937, it failed to sign up a majority of the Duquesne workforce. 
Sophisticated and persuasive, Duquesne and the Rise of Steel Unionism confirms that what people did on the shop floor played a critical role in the course of steel unionism.
Praise For Duquesne and the Rise of Steel Unionism (Working Class in American History)…
"An excellent book. Rose provides ample evidence for his arguments, and he challenges our conceptions of how industrial unionism took root in the United States. This book should be must reading for labor historians and industrial relations scholars."--James R. Zetka, Jr., Journal of American History

"Rose's study significantly expands our understanding of big steel and the rise of steel unionism in this country. . . . Rose's access to U.S. Steel's records . . . gives his account of the evolution of unionism in the steel industry a unique perspective. . . . His grasp of the historiography and nuances of the steel industry and unionism is both broad and deep."--Marilyn D. Rhinehart, American Historical Review

"Original and thought-provoking in its perspective, and clearly written. "--Kenneth Warren, Business History

"Rose delivers a well-crafted and detailed story which raises questions about working-class militancy and class consciousness in the decade many historians see as a high point of working-class mobilization and unity. And, he suggests, the Steelworkers Union adopted a highly-centralized and top-down organizational model not because union bureaucrats betrayed rank-and-file aspirations . . . but because workers were less united and less militant than supposed and because only a centralized and bureaucratic union could actually succeed. . . . Well worth reading."--Richard Oestreicher, Pennsylvania Magazine of History

"An excellent reference for serious students wanting specifics on the steel industry."--Tom Hull, Tech Directions
University of Illinois Press, 9780252026607, 304pp.
Publication Date: July 31, 2001
or
Not Currently Available for Direct Purchase