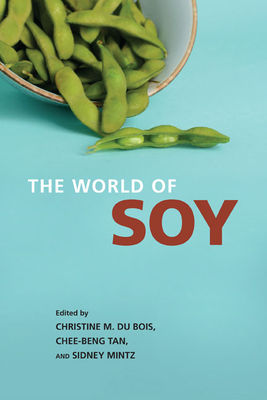 The World of Soy
Hardcover

* Individual store prices may vary.
Description
As the most ecologically efficient and economical source of complete protein in human food, soy is gradually attracting more use in the American diet for its nutritional and financial value. Derived from soybean plants--the leading export crop of the United States and the world's most traded crop--soy produced for human consumption is part of a global enterprise affecting the likes of farmers, economists, dieticians, and grocery shoppers. An international group of expert food specialists--including an agricultural economist, an agricultural sociologist, a former Peace Corps development expert, and numerous food anthropologists and agricultural historians--discusses important issues central to soy production and consumption: genetically engineered soybeans, increasing soybean cultivation, soyfood marketing techniques, the use of soybeans as an important soil restorative, and the rendering of soybeans for human consumption.
Contributors are Katarzyna Cwiertka, Christine M. Du Bois, H. T. Huang, Lawrence Kaplan, Jian-Hua Mao, Sidney W. Mintz, Akiko Moriya, Can Van Nguyen, Donald Z. Osborn, Erino Ozeki, Myra Sidharta, Ivan Sergio Freire de Sousa, Chee-Beng Tan, and Rita de Cássia Milagres Teixeira Vieira.
Praise For The World of Soy…
"Du Bois, Tan, and Mintz have done an excellent job combining a series of chapters from diverse authors into a seamless read. The World of Soy provides an informative account of a legume equally ancient and modern."--Science

"The chapters in The World of Soy are remarkably informative and contribute greatly to our understanding of this food that maintains multiple identities and meanings across the world."--Society for the Anthropology of Food and Nutrition

"Knowledge provided in the chapters and the large and fantastic reference set are gems shining for us all."--Flavor and Fortune

"The World of Soy escorts readers on an unexpected but delightfully fascinating journey through the subject of soy as a food. . . . Recommended."--Choice

"Measured in cash terms, soy (Glycine max) is in some ways the most important crop, and in terms of imports and exports, second only to wheat. The fact that this important book has contributions by seventeen authors reflects more than the circumstances of its origins in a couple of academic conferences; it also shows the vastness of the topic and the large number of disciplines required to make sense of it. . . . [This] exemplary, comprehensive volume shows the way to frame the crucial questions of food studies. "--Times Literary Supplement

"All food-studies theorists and practitioners will find plenty to entice them in the historical and ethnographic chapters, which offer sweeping but detailed evidence-based culinary histories and geographies, plus step-by-step recipes for the transformation of soy into so many cultural products."--Gastronomica

"An important book, with implications for food policy, everyday food choices, and the comparative understanding of dietary change. It is a major contribution to food studies and to the anthropology of food."--Journal of the Royal Anthropological Institute

"A rich introduction to the varied uses--past, present, and future--of this underappreciated yet ubiquitous foodstuff. Drawing on an astounding variety of backgrounds and disciplines, this volume amply shows why the soybean is the staple ingredient in both traditional and modern cuisines, as well as the most important agricultural commodity in the global food system."--Warren Belasco, author of Meals to Come: A History of the Future of Food

"This enjoyable work provides readers with an overview of the history of modern as well as traditional soy food products. It also points out roadblocks to improving nutritional standards of populations abroad through the introduction of soybean foods. The World of Soy will be extremely informative to groups such as food companies, chefs, and international agencies seeking to expand the uses of soybeans."--Theodore Hymowitz, emeritus professor of plant genetics, University of Illinois, Urbana-Champaign, and author of Pedigrees of soybean cultivars released in the United States and Canada

"What a marvelous, multifaceted work! As varied as the foodstuffs that derive from the bean itself--pungent fermented miso paste; nutty kinako toasted soy flour; delicate, shirred sheets of yuba soymilk; silken cubes of tofu custard; stinky and sticky natto beans--the essays and studies in The World of Soy provide readers with savory, rich, piquant, tangy, and spicy approaches to understanding and appreciating the global importance of soy."--Elizabeth Andoh, author of Washoku: Recipes from the Japanese Home Kitchen

"This book is a major contribution to the literature on world crops. An up-to-date review of this vitally important food has long been needed, and The World of Soy fills the need with outstanding success. Particularly detailed and notably valuable are the accounts of currently produced soyfoods and how they are changing with new technology worldwide."--E. N. Anderson, author of Everyone Eats: Understanding Food and Culture

"The story of soy encompasses every aspect of food and globalization, and The World of Soy takes us on an illuminating journey from the simple pleasures of home-cooking to the stark realities of mass industrial farming and food processing. This skillfully assembled collection should be at the core of every food studies curriculum."--Richard Wilk, professor and director of the food studies program at Indiana University, author of Home Cooking in the Global Village
University of Illinois Press, 9780252033414, 352pp.
Publication Date: August 4, 2008
About the Author
Katarzyna J. Cwiertka is professor in and chair of Modern Japan Studies at Leiden University, Netherlands. She is the author of several books, including Cuisine, Colonialism, and the Cold War: Food in Twentieth-Century Korea, also published by Reaktion Books. 

or
Not Currently Available for Direct Purchase