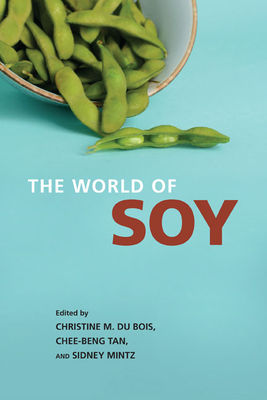 The World of Soy
Hardcover

* Individual store prices may vary.
Description
As the most ecologically efficient and economical source of complete protein in human food, soy is gradually attracting more use in the American diet for its nutritional and financial value. Derived from soybean plants--the leading export crop of the United States and the world's most traded crop--soy produced for human consumption is part of a global enterprise affecting the likes of farmers, economists, dieticians, and grocery shoppers. An international group of expert food specialists--including an agricultural economist, an agricultural sociologist, a former Peace Corps development expert, and numerous food anthropologists and agricultural historians--discusses important issues central to soy production and consumption: genetically engineered soybeans, increasing soybean cultivation, soyfood marketing techniques, the use of soybeans as an important soil restorative, and the rendering of soybeans for human consumption.
Contributors are Katarzyna Cwiertka, Christine M. Du Bois, H. T. Huang, Lawrence Kaplan, Jian-Hua Mao, Sidney W. Mintz, Akiko Moriya, Can Van Nguyen, Donald Z. Osborn, Erino Ozeki, Myra Sidharta, Ivan Sergio Freire de Sousa, Chee-Beng Tan, and Rita de Cássia Milagres Teixeira Vieira.
Praise For The World of Soy…
Du Bois, Tan, and Mintz have done an excellent job combining a series of chapters from diverse authors into a seamless read. The World of Soy provides an informative account of a legume equally ancient and modern.--Science

"The chapters in The World of Soy are remarkably informative and contribute greatly to our understanding of this food that maintains multiple identities and meanings across the world."--Society for the Anthropology of Food and Nutrition

"Knowledge provided in the chapters and the large and fantastic reference set are gems shining for us all."--Flavor and Fortune
University of Illinois Press, 9780252033414, 352pp.
Publication Date: August 4, 2008
About the Author
Katarzyna J. Cwiertka is professor in and chair of Modern Japan Studies at Leiden University, Netherlands. She is the author of several books, including Cuisine, Colonialism, and the Cold War: Food in Twentieth-Century Korea, also published by Reaktion Books. 

or
Not Currently Available for Direct Purchase