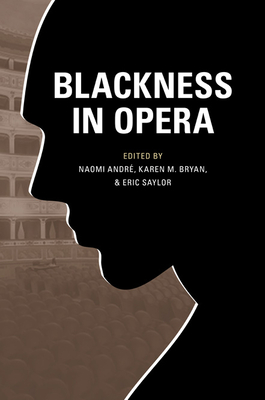 Blackness in Opera (Hardcover)
University of Illinois Press, 9780252036781, 304pp.
Publication Date: February 23, 2012
Other Editions of This Title:
Paperback (5/4/2018)
Paperback (10/30/2014)
Hardcover (5/4/2018)
* Individual store prices may vary.
Description
Blackness in Opera critically examines the intersections of race and music in the multifaceted genre of opera. A diverse cross-section of scholars places well-known operas (Porgy and Bess, Aida, Treemonisha) alongside lesser-known works such as Frederick Delius's Koanga, William Grant Still's Blue Steel, and Clarence Cameron White's Ouanga! to reveal a new historical context for re-imagining race and blackness in opera. The volume brings a wide-ranging, theoretically informed, interdisciplinary approach to questions about how blackness has been represented in these operas, issues surrounding characterization of blacks, interpretation of racialized roles by blacks and whites, controversies over race in the theatre and the use of blackface, and extensions of blackness along the spectrum from grand opera to musical theatre and film. In addition to essays by scholars, the book also features reflections by renowned American tenor George Shirley.
Contributors are Naomi André, Melinda Boyd, Gwynne Kuhner Brown, Karen M. Bryan, Melissa J. de Graaf, Christopher R. Gauthier, Jennifer McFarlane-Harris, Gayle Murchison, Guthrie P. Ramsey Jr., Eric Saylor, Sarah Schmalenberger, Ann Sears, George Shirley, and Jonathan O. Wipplinger.
About the Author
Naomi André is an associate professor of women's studies at the University of Michigan. Karen M. Bryan is a professor and chair of the department of music at the University of Arkansas at Little Rock. Eric Saylor is an associate professor of musicology at Drake University.
Praise For Blackness in Opera…
"Fascinating details from behind the scenes are uncovered. . . . . Recommended."--Choice

"Blackness in Opera provides an engrossing look into issues that have not been well documented by scholars."--Journal of the Society for American Music
 
"A treasury of historical information long unrelated or unknown. . . . This is a most valuable addition to anyone's operatic experience."--American Record Guide



"A highly readable collection of interesting essays that come to terms with the deeply problematic treatment of black characters by opera composers and librettists and with the exceptional challenges facing black singers on the operatic stage. The volume will appeal to opera lovers and scholars alike."--Michael V. Pisani, author of Imagining Native America in Music
"Here unusual perspectives are provided by academics from 14 institutions all linked by teaching in communications and related fields. . . . such scholars have valuable experience and insights involving current issues on prison education and the need to break from the past. . . . All contributors deserve accolades.  Recommended."--
Choice
"An intriguing blend of different methodologies that all coalesce at the examination of how "blackness" is constructed in both canonical and lesser-known operas.  This monograph will no doubt be viewed as one of the hallmarks of musicological scholarship in the years to come."--Women & Music

or
Not Currently Available for Direct Purchase