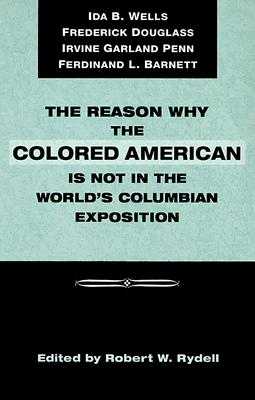 The Reason Why Colored American Is Not in World's Columbian Exposition
The Afro-American's Contribution to Columbian Literature
Paperback

* Individual store prices may vary.
Description
Expressly intended to demonstrate America's national progress toward utopia, the 1893 World's Columbian Exposition in Chicago pointedly excluded the contributions of African Americans. For them, being left outside the gates of the "White City" merely underscored a more general exclusion from America's bright future.   Exhibits at the fair were controlled by all-white committees, and those that acknowledged African Americans at all, such as the famous Aunt Jemima pancake exhibit, ridiculed and denigrated them. Many African Americans saw the racist policies of the World's Columbian Exposition as mirroring, framing, and reinforcing the larger horrors confronting blacks throughout the United States, where white supremacy meant segregation, second-class citizenship, and sometimes mob violence and lynching.   In response to the politics of exclusion that governed the fair, and of its larger implications, several prominent African Americans resolved to publish a pamphlet that would catalog the achievements of African Americans since the abolition of slavery while articulating the persistent political economy of apartheid in the American South. The authors of this remarkable document included the antilynching crusader Ida B. Wells, the former slave and abolitionist Frederick Douglass, the educator Irvine Garland Penn, and the lawyer and newspaper publisher Ferdinand L. Barnett. An eloquent statement of protest and pride, The Reason Why the Colored American Is Not in the World's Columbian Exposition reminds us that struggles over cultural representation are nothing new in American life. Robert Rydell's introduction provides insight into the sometimes conflicting strategies employed by African Americans as they strove to represent themselves at a cultural event that was widely regarded as a defining moment in American history.
 
University of Illinois Press, 9780252067846, 136pp.
Publication Date: June 2, 1999
About the Author
Robert W. Rydell, a professor of history at Montana State University, is the author of All the World's a Fair: Visions of Empire and American International Expositions and other books.
 
or
Not Currently Available for Direct Purchase